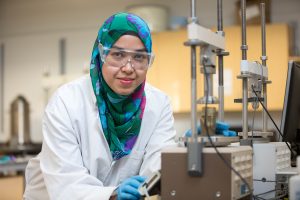 By Sam Charles on January 8, 2020
Having a PhD is the beginning of my new academic journey. It taught me how to be organized, and how to structure scientific research in order to ensure that it leads to significant contributions to the body of knowledge. It's never-ending work.
Posted in College of Graduate Studies, Research, SOESpotlight | Tagged children, Civil, COGS, Grad, Nurmunira Muhammad, PhD, Siddiqua, silty sand, Studies | 1 Response
By Sam Charles on August 15, 2018
Husnain Haider is a graduate of the University of British Columbia's Okanagan campus School of Engineering and an assistant professor in the Department of Civil Engineering, College of Engineering at Qassim University in Saudi Arabia.
Posted in Graduate Students, News, Research | Tagged alumni, Civil, Haider, PhD, Qassim, Sadiq, school of engineering | 1 Response
By Sam Charles on July 22, 2013
Civil engineer aims to ensure distribution networks deliver clean water.
Posted in General, Spotlight | Tagged Alexander Graham Bell Canada Graduate Scholarship, Bangladesh, chlorination, civil engineer, distribution, Nilufar Islam, NSERC, PhD, Rehan Sadiq, rural, water | 2 Responses