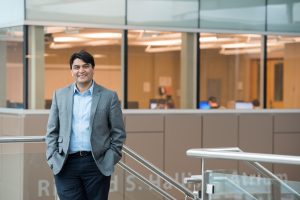 By Sam Charles on March 19, 2021
Professors Rehan Sadiq and Kasun Hewage are among a group of civil engineers being celebrated for their election as Fellows at the organization's next Gala planned for May 2022 in Whistler.
Posted in SOESpotlight | Tagged Civil, CSCE, Hewage, Sadiq | 1 Response
By Sam Charles on June 30, 2020
The Canadian Academy of Engineering elected fifty-two new Fellows and two new International Fellows into the Canadian Academy of Engineering this month.  Included in the list School of Engineering Executive Associate Dean Rehan Sadiq.
Posted in SOESpotlight | Tagged CAE, Fellow, Sadiq | Leave a response
By Sam Charles on April 20, 2020
UBC researchers are partnering with the Okanagan Basin Water Board (OBWB) to develop new policy and planning tools to address flooding in the Okanagan Valley.
Posted in SOESpotlight | Tagged Civil, flood, Flooding, Hewage, Nahiduzzaman, OBWB, Okanagan Basin Water Board, research, Sadiq, water | Leave a response