Husnain Haider is a graduate of the University of British Columbia's Okanagan campus School of Engineering and an assistant professor in the Department of Civil Engineering, College of Engineering at Qassim University in Saudi Arabia.
"Working with world-class professors was the most unforgettable experience for me."
What brought you to UBC Okanagan?
After finishing my first PhD, I was doing research in the areas of water resources management and environmental engineering at the University of Engineering and Technology Lahore in Pakistan. At that juncture, I wanted to strengthen my expertise in environmental risk analysis and apply this powerful tool for management of both man-made infrastructure and natural environmental systems. While striving to achieve my goals, I came across the profile of Dr. Rehan Sadiq.  Dr. Sadiq had well established his expertise in these areas by that time. I still remember my first telephone conversation with Dr. Sadiq which cleared up my mind to peruse my 2nd PhD under his supervision.
My research project was focused on performance improvement and risk management of water supply systems – nothing better than this I could imagine. Dr. Solomon Tesfamariam's (principal investigator of the research project) profile was also impressive in the field of infrastructure management.
In short, I found UBC Okanagan as an appropriate choice where I could bring my research dreams into reality and apply them for the betterment of humanity.
Describe the research you did with Sadiq?
In my PhD research under Dr. Sadiq's supervision, I developed an inclusive multilevel performance management framework for small-to-medium-sized water utilities. Such utilities have been facing performance related challenges due to lack of resources and avoidance to participate in the national benchmarking process where they need to compete against large utilities which may delineate deficiency performance. The systematic approach initiated with identification and selection of suitable performance indicators for inter-utility performance benchmarking of smaller systems. Subsequent level provides opportunities for intra-utility management at system and component levels. The final level of the framework culminates at managing customer satisfaction through system reliability. All these models, either stand alone or integrated, are undoubtedly original contributions to the subject. In addition to my core PhD research, I worked on several research topics related to water quality management, infrastructure asset management, and sustainable development with Dr. Sadiq. I have published more than 25 research articles with him, so far.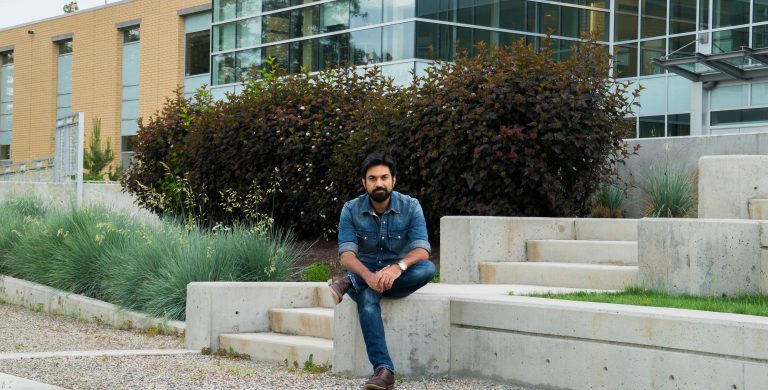 What are some of your fondest memories from being at UBC Okanagan?
There were several occasions during my stay at UBC Okanagan which I will never forget. Working with world class professors was the most unforgettable experience for me. UBCO being one of the top ranked universities is spreading knowledge to students from all over the world – I thank UBCO for providing me such an environment where I made friends from different countries and learned their customs and cultural values.
As I was primarily involved in academic activities, publishing several research articles in reputed journals,  winning best presenter award for PhD research, and being interviewed for Rising Star of UBC's Faculty of Applied Science were also some of my fondest memories at UBC Okanagan. Sometimes, I miss the stunning mountain views in Kelowna from the window of my workplace in the beautiful EME Building. I cannot forget the weekends when I needed to work for a few hours, my lovely wife accompanied me and cleaned up my workplace in my absence.
How have your studies at UBC Okanagan prepared you for your current role?
UBCO's competitive working environment pushed me towards continuous and rigorous academic efforts. Dr. Rehan Sadiq is an extremely attentive and thoughtful person. I noticed that he always treats all his students with respect and interacts with each one of them at a personal level. Another important quality  which I learned from Dr. Sadiq is 'patience' – I witnessed his style dealing with students of varying intellectual capacities. These attributes are very important characteristics which a university professor should possess. I believe and hope that my students have the same feelings about me.
I got an opportunity to coordinate with industry clients in several research projects at UBCO and learned how to meet deadlines with high standards of reporting. I also acquired an interesting research skill while working under the supervision of Dr. Sadiq. Being an academic you have to perform multiple tasks including teaching, research, proposal writing, etc., sometimes restricted timeframes to perform these tasks limit your time for critical thinking. I learned that a researcher needs to be patient and consistent in conceptualizing big ideas which may take longer than desired but will come up as great contributions to both the field and humanity. Overall my stay at UBC Okanagan was a learning experience for me and I have no hesitation in saying that UBCO has played a significant role in my professional carrier.
What type of research are you doing now?
Based on my past experience, I am primarily involved in teaching and research in the areas of water resources management and environmental engineering. After graduating from the Okanagan campus of UBC, I joined the water management research group at the Civil Engineering Department of Qassim University in Saudi Arabia. It was not a surprise for me that several problems associated to water management exist, which differ from those in Pakistan and Canada, but certainly need effective solutions. Presently, keeping in view the specific circumstances of arid environments, I am developing innovative decision-support frameworks for ground water quality assessment, wastewater recycling, flood risk management, and sustainability of waste management systems.
In a recent research project, I developed a framework based on environmental valuation of water for establishing an economic level of leakage for water distribution networks in arid regions. The idea was well-received by both the academic community and municipal engineers working in the region.
In addition to my existing research, upcoming projects will include: i) resolving the water safety issues from source to tap for intermittent water supplies and ii) enhancing the effectiveness of water infrastructure asset management strategies in Saudi Arabia. I have remained in closed contact with my old research group at UBC Okanagan, which has led to many innovation research collaborations.