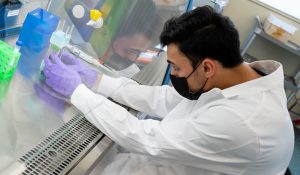 By Sam Charles on January 31, 2022
Tiny pathogens are isolated and float within a small cylinder under a ventilation hood within the Pakpour Lab at UBC Okanagan. Using an innovative method to isolate pathogens, researchers are now turning their attention to diagnostic applications. While the research sounds complicated, an important role was played by an undergraduate research assistant, James Fowler. Fowler, a NSERC Undergraduate Student Research Assistant Award recipient, took a lead role in the inter-disciplinary project.
Posted in Uncategorized | Tagged electrical, Fowler, Pakpour, pathogens, USRA
By Sam Charles on November 24, 2020
For Enrique Calderon, a fourth-year Electrical Engineering (with a Computer Science minor) student, his dream to become a pilot in the Royal Canadian Air Force has taken him to UBC's Okanagan campus (which happens to be situated across highway 97 from the Kelowna international Airport).
Posted in Uncategorized | Tagged Calderon, electrical, Mexicu, Microsoft, undergraduate | Leave a response
By Sam Charles on October 1, 2020
As power grids are increasingly being impacted by climate change factors such as forest fires and severe weather, UBC researchers are investigating ways to make power systems more resilient.
Posted in Uncategorized | Tagged Abdelaziz, Climate Change, distribution, electrical, Forest Fires, Microgrids, Power, Rodrigues, Severe Weather, Wang | Leave a response