By Patty Wellborn on February 6, 2020
It's only a matter of time before breath detection devices, targeting drivers who are too high to drive, will be in the hands of enforcement agencies.
Posted in Media Releases, Research, Spotlight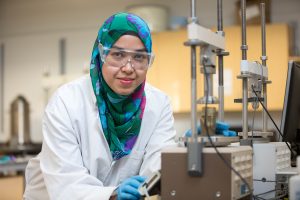 By Sam Charles on January 8, 2020
Having a PhD is the beginning of my new academic journey. It taught me how to be organized, and how to structure scientific research in order to ensure that it leads to significant contributions to the body of knowledge. It's never-ending work.
Posted in College of Graduate Studies, Research, SOESpotlight | Tagged children, Civil, COGS, Grad, Nurmunira Muhammad, PhD, Siddiqua, silty sand, Studies | Leave a response
By Christine Zeindler on December 20, 2019
UBCO stories you may have missed in 2019 UBCO Okanagan has grown to a student population of more than 10,000. With this growth, has come new research opportunities—currently there are more than 1,600 active projects. UBCO researchers are challenging established assumptions, innovating solutions and creating new knowledge that will have broad impacts on our society. […]
Posted in Media Releases, Research
By Patty Wellborn on December 12, 2019
UBC Okanagan engineering students have solved the problem that took several lives and cost Canadian charities thousands of dollars of lost income. This time last year, charities across Canada pulled their clothing donation bins off the street after a number of people had climbed inside the bins and died. "When this last death happened in […]
Posted in Research
By Bud Mortenson on September 4, 2019
The age-old technique of dressing in layers is a tried and tested way to protect from the elements. Now thanks to $1.5M in new funding for UBC's Okanagan campus, researchers are pushing the practice to new limits by creating a high-tech body armour solution with multiple layers of protection against diverse threats.
Posted in Business, Media Releases, Research, STAR | Tagged school of engineering
By Patty Wellborn on July 18, 2019
A formal partnership between UBC Okanagan and Okanagan College has established a Green Construction Research and Training Centre (GCRTC) that will provide new research options and create hands-on practical training opportunities for students.
Posted in Media Releases, Research | Tagged school of engineering