College of Graduate Studies
By Patty Wellborn on May 27, 2021
Virtual ceremony recognizes more than 1,800 graduating students UBC Okanagan is marking its second virtual convocation next week. More than 1,850 graduates — including 1,600 undergraduates as well as more than 100 masters' and doctoral students — will tune in to celebrate the success of their educational journey. "This has been a remarkable year for […]
Posted in College of Graduate Studies, Media Releases
By Patty Wellborn on December 18, 2020
Class project may change the entire shipping industry A UBCO student project developed a method to make shipping containers immediately identifiable by using artificial intelligence. With hundreds of thousands of packages and shipments crossing the globe, especially during the holiday season, the industry has turned to UBC Okanagan researchers to develop better ways to track […]
Posted in College of Graduate Studies, Media Releases, Research
By Patty Wellborn on June 15, 2020
UBC Okanagan's Convocation of 2020 will go down in history as a unique event. Instead of students, parents and faculty joining together on campus, the celebrations will be held virtually.
Posted in College of Graduate Studies, Media Releases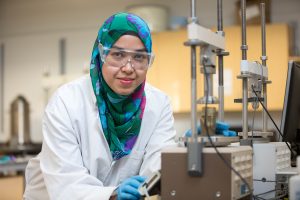 By Sam Charles on January 8, 2020
Having a PhD is the beginning of my new academic journey. It taught me how to be organized, and how to structure scientific research in order to ensure that it leads to significant contributions to the body of knowledge. It's never-ending work.
Posted in College of Graduate Studies, Research, SOESpotlight | Tagged children, Civil, COGS, Grad, Nurmunira Muhammad, PhD, Siddiqua, silty sand, Studies | 1 Response
By Nathan Skolski on April 25, 2019
A simple injection that can help regrow damaged tissue has long been the dream of physicians and patients alike. A new study from researchers at UBC Okanagan takes a big step towards making that dream a reality with a device that makes encapsulating cells much faster, cheaper and more effective.
Posted in College of Graduate Studies, Media Releases, Research | Tagged school of engineering