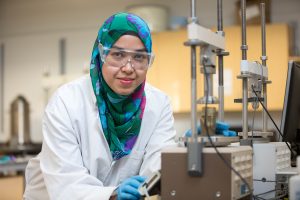 By Sam Charles on January 8, 2020
Having a PhD is the beginning of my new academic journey. It taught me how to be organized, and how to structure scientific research in order to ensure that it leads to significant contributions to the body of knowledge. It's never-ending work.
Posted in College of Graduate Studies, Research, SOESpotlight | Tagged children, Civil, COGS, Grad, Nurmunira Muhammad, PhD, Siddiqua, silty sand, Studies | 1 Response
By Sam Charles on August 27, 2018
Ashraf Ahsan uses Raman spectroscopy to study the influence on the crystallinity and scattering of carbon thin films that have been synthesized using different deposition techniques by varying the Raman laser's wavelengths or frequencies.
Posted in College of Graduate Studies, Graduate Students, News, student profile | Tagged Ahsan, Ashraf Farahat, electrical, Grad, school of engineering, student, Studies | Leave a response
By Sam Charles on June 27, 2018
Connor Badowich researches Wireless Power Transfer (WPT), which involves using inductive coils to transfer power (on the order of Watts) across a gap of 20-40cm.
Posted in College of Graduate Studies, Graduate Students, News, Research, student profile | Tagged Badowich, electrical, Grad, school of engineering, Studies | Leave a response