Why did you choose UBC Okanagan's School of Engineering?
I received funding from the Malaysian government to pursue a PhD, and only universities in the world's top 50 rankings can be selected. I initially didn't consider North American universities because not many of my colleagues had those universities on their radar. But I took this as a challenge, and then shortlisted several North America universities, and cross-matched them with my area of study.
I completed my BSc in Civil Engineering from UTM, Malaysia & MEng major in geotechnical engineering from UMP, Malaysia. During my MEng, I completed an extensive literature review in soil stabilization of organic soil using clay additive (my core research area); I came across interesting articles from Dr. Sumi Siddiqua and her research group from UBC Okanagan. I was inspired by those articles, and reached out to Dr. Siddiqua.  After establishing a connection with Dr. Siddiqua and her group, I decided to pursue a PhD at UBC Okanagan. I joined her research group in September 2015.
Apart from the high-impact research, I found many positive reviews of Okanagan lifestyle such as how the community welcomes international students. With a young family, my husband and I did a great deal of research into the community where we were intending to settle.  We particularly liked the size of Kelowna compared to other larger urban areas/cities.
Describe your research?
The goal of Dr. Siddiqua's research program is to develop new generation chemical-based binder technology for road subgrade stabilization. As part of the program, I worked on silty sand subgrades.
The majority of BC highways are laid on problematic soil called silty sand. Due to changes in moisture, the strength of such soils weakens during winter and spring season. This weakness can lead to deterioration of the flexible road pavement and results in the development of cracking, rutting and potholes. This soil can be improved by using locally-mined calcium bentonite with the addition of MgCl2 and alkaline activator. The traditional chemical soil additive for soil stabilization are cement, fly ash or bitumen.  Our results to date are promising for the construction (specifically road infrastructure) industry. Collaborators for this project are the Ministry of Highways Kamloops, Pacific Bentonite Ltd. and, the Universiti Malaysia Pahang (UMP), Malaysia.  A part of my project was also supported by Eminence funds from the Green Construction Research and Training Centre.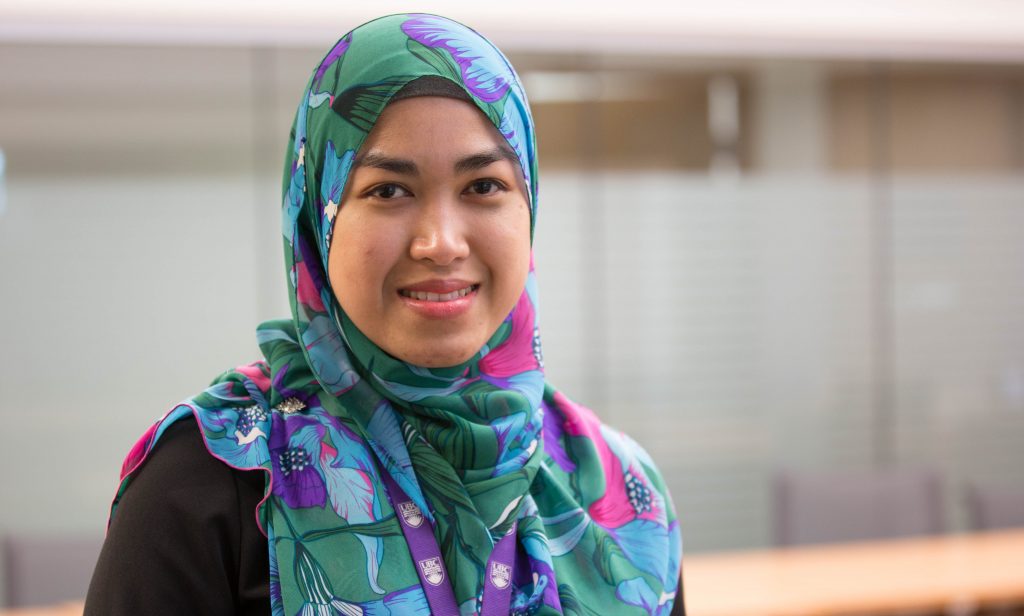 What was it like working with Dr. Siddiqua?
I'm really thankful to Dr. Siddiqua for this research opportunity. Dr. Siddiqua created a great learning environment in her research group. Her lab is welcoming for female students, and students from diverse backgrounds.
My experience in the research group was excellent. Dr. Siddiqua encourages a highly collaborative working environment in her research lab with industry partners and researchers from other disciplines interacting and sharing ideas. She fosters hands-on experiences in the lab and provides informal interactions with lab members on a regular basis. There is a highly interactive weekly meeting in the research group, where all members present their progress and participate in discussions. Because of this, I was always focused and driven to perform the best in my work.
You have a young family, how did you juggle parenting and graduate studies?
When I registered as a PhD student at UBC Okanagan, which is a thousand miles away from home, I arrived with my husband and a 6 months old baby. It was quite a struggle during the early stage of my research, but my husband and I worked hard to establish strong time management, so I could fully concentrate on my research work and classes during my time at school. When I arrived at home, I'd switch gears as a wife and a mom. During my third year of studies, I delivered my second born. My time was very restricted with two kids, and again time management was crucial. It was not an easy task to juggle between parenting and studies. Still, as a student as well as a parent, I strived to be mentally and emotionally stable, and physically active. I'm not afraid to cry out loud; in fact, I always shared my problem with my close friends. I have to give credit to my husband for being so supportive and understanding.
Kelowna is a great place to raise kids.  We were fortunate to find a strong support system of young families in the area.  My husband and I are not only devoted to our workloads, but to ensuring that our children receive the love and attention they deserve.  I always dedicated my weekends to them.
Being a part of Dr. Siddiqua research group also helped me excel in my studies.  With weekly group meetings where research progress was tracked, I was provided with tools to plan and organize my work in an effective manner.  From my personal experience, it is invaluable to have a supervisor that really cares and understands your situation (especially as a student with a young family).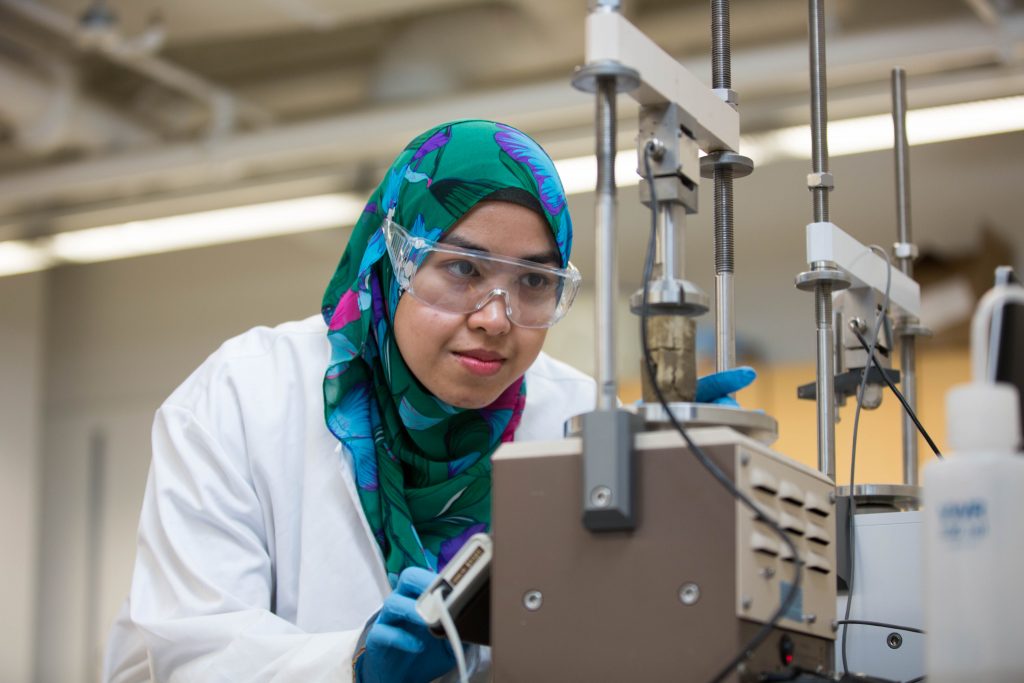 What does the future hold for you?
Having a PhD is the beginning of my new academic journey. It taught me how to be organized, and how to structure scientific research in order to ensure that it leads to significant contributions to the body of knowledge. It's never-ending work.
I am really eager to share the knowledge that I have gained and deliver it to aspiring, future engineers.
I hope by completing my PhD that my children will be inspired to pursue a similar passion. One day if they feel like there is a something blocking their way, they can reflect on my successes (realizing that nothing is impossible), and find a way to overcome their obstacles.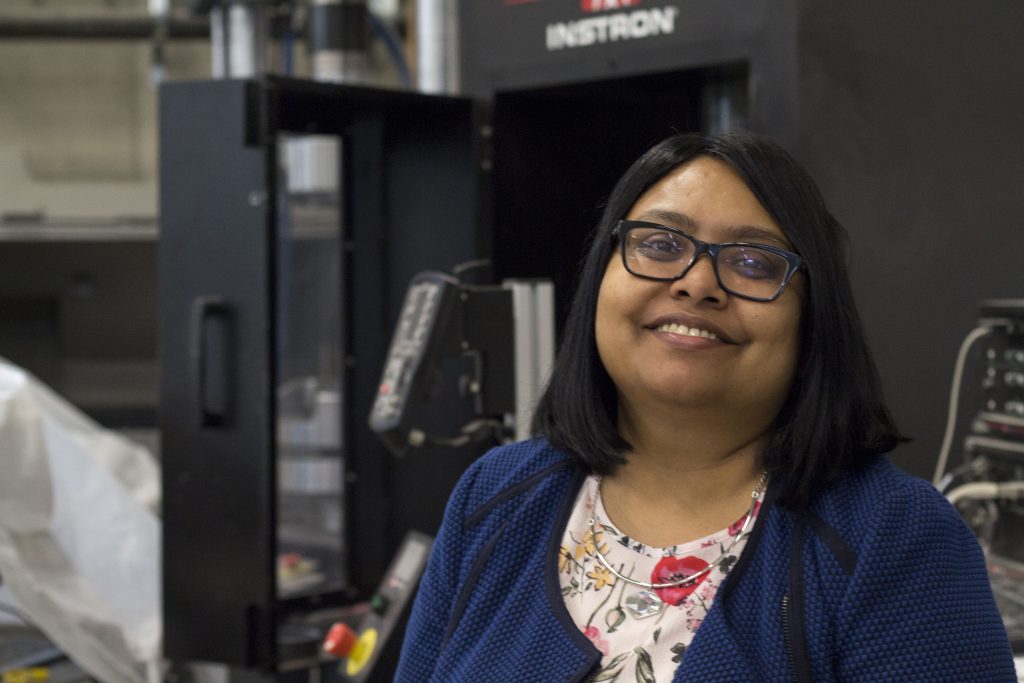 We asked Dr. Muhammad's supervisor, Sumi Siddiqua, what impressed her about Dr. Muhammad?
Munira is attentive, thoughtful and patience. These qualities helped her to complete her PhD on time with two young kids at home.
What made her such a good fit in your lab?
Munira joined my lab as she is passionate to learn advanced techniques related to road subgrade studies. She is a team player and a great mentor to new students in my lab. Most importantly, she is organized in research. She is respectful towards all the lab members and never hesitate to help others when needed. Interactive environment is essential for my lab and Munira played a key role to maintain such environment.
My lab plays a key role in promoting Women in Engineering on our campus.  Equally important, I actively hire students from diverse backgrounds. By training students in the areas of personal development, that includes valuing respectful interactions and communication skills, our lab encourages positive and progressive approaches to research. Munira checks out all those boxes. She came from UMP, Malaysia and she worked to become an excellent researcher.
What do you think the future holds for her?
Munira holds a faculty position in Universiti Malaysia Pahang (UMP), Malaysia. She is excited to join her university as she wants to establish her own research group at UMP. I know she will have a successful team in coming years and we will be collaborating in some exciting projects soon.