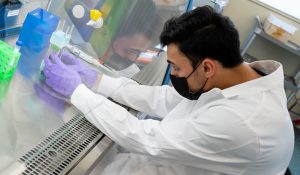 By Sam Charles on January 31, 2022
Tiny pathogens are isolated and float within a small cylinder under a ventilation hood within the Pakpour Lab at UBC Okanagan. Using an innovative method to isolate pathogens, researchers are now turning their attention to diagnostic applications. While the research sounds complicated, an important role was played by an undergraduate research assistant, James Fowler. Fowler, a NSERC Undergraduate Student Research Assistant Award recipient, took a lead role in the inter-disciplinary project.
Posted in Uncategorized | Tagged electrical, Fowler, Pakpour, pathogens, USRA
By Sam Charles on March 31, 2021
The 2019-20 SOE Staff & Faculty Awards, delayed as a result of the pandemic, were presented virtually at an all-School virtual meeting held March 31, 2021.
Posted in SOESpotlight, Uncategorized | Tagged Arjmand, awards, Cao, Charles, Chau, Eikenaar, Excellence, Golovin, Pakpour, Richert, school of engineering, Seib, Shirazi, Soriano, Weyand | 2 Responses