Archives by date
You are browsing the site archives by date.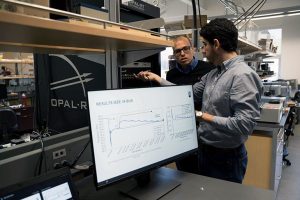 By Patty Wellborn on February 28, 2020
With the goal of eliminating brownouts and blackouts, new research from UBC's Okanagan School of Engineering is redesigning how electricity is distributed within power grids.
Posted in Media Releases
By Nathan Skolski on February 27, 2020
UBC Okanagan announced today that Engineering Professor Cigdem Eskicioglu has been named the Senior Industrial Research Chair (IRC) in advanced resource recovery from wastewater.
Posted in Business, Media Releases, Spotlight
By Patty Wellborn on February 20, 2020
New research from the University of British Columbia's Okanagan campus, Harvard Medical School and Michigan State University suggests that levitating human plasma may lead to faster, more reliable, portable and simpler disease detection.
Posted in Media Releases
By Sam Charles on February 10, 2020
Starting my career with an education from UBC Okanagan's School of Engineering challenged me and helped me grow through the development of a desire for knowledge and continual learning which has helped me succeed and allowed me to adapt well to new positions and opportunities throughout my career.
Posted in SOESpotlight | Tagged alumni, Harris, mechanical, school of engineering | 1 Response
By Patty Wellborn on February 6, 2020
It's only a matter of time before breath detection devices, targeting drivers who are too high to drive, will be in the hands of enforcement agencies.
Posted in Media Releases, Research, Spotlight
By Patty Wellborn on February 5, 2020
During a typical Canadian winter, snow accumulation and melt—combined with sudden rainfalls—can lead to bottlenecks in storm drains that can cause flooding. Researchers at UBC's Okanagan campus have been examining urban stormwater drainage systems, and they too have concerns about the resilience of many urban drainage systems.
Posted in Business, Media Releases