By Christine Zeindler on December 20, 2019
UBCO stories you may have missed in 2019 UBCO Okanagan has grown to a student population of more than 10,000. With this growth, has come new research opportunities—currently there are more than 1,600 active projects. UBCO researchers are challenging established assumptions, innovating solutions and creating new knowledge that will have broad impacts on our society. […]
Posted in Media Releases, Research
By nathan skolski on December 11, 2019
New research from UBC's Okanagan campus has developed a innovative model to map the impact of trauma on a pregnant woman and her uterus if she were involved in an accident—with the hopes of making everything from airbags to seatbelts safer for all.
Posted in Media Releases
By Patty Wellborn on December 4, 2019
With many of the products we use every day held together by adhesives, researchers from UBC's Okanagan Campus and the University of Victoria hope to make everything from clothing to medical implants and residential plumbing stronger and more corrosion-resistant thanks to a newly-developed 'hyper glue' formula.
Posted in Business, Media Releases
By Chris Guenard on September 26, 2019
Foresight Cleantech Accelerator Centre, Okanagan College and UBC Okanagan have established a new collaboration to create jobs and intellectual property, and grow the cleantech ecosystem in B.C. and Canada.
Posted in Media Releases | Tagged school of engineering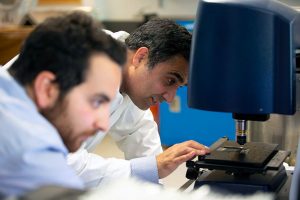 By Bud Mortenson on September 4, 2019
The age-old technique of dressing in layers is a tried and tested way to protect from the elements. Now thanks to $1.5M in new funding for UBC's Okanagan campus, researchers are pushing the practice to new limits by creating a high-tech body armour solution with multiple layers of protection against diverse threats.
Posted in Business, Media Releases, Research, STAR | Tagged school of engineering