By Patty Wellborn on June 3, 2019
This week UBC Okanagan celebrates its students as it hosts six separate graduation ceremonies over two days. More than 1,725 students will cross the stage, earning their undergraduate degrees while 215 students will receive their master's degree and 40 their doctorates.
Posted in College of Graduate Studies, Faculty of Health and Social Development, Faculty of Management, Irving K. Barber School of Arts and Sciences, Media Releases, School of Education, School of Health and Exercise Sciences, School of Nursing, School of Social Work, Spotlight | Tagged convocation, Faculty of Creative and Critical Studies, school of engineering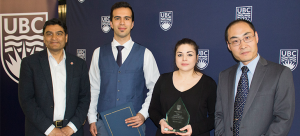 By Sam Charles on May 3, 2018
The School of Engineering well-represented at the 2018 Provost's Teaching Awards Reception in all categories.
Posted in Faculty, SOESpotlight, Spotlight | Tagged 2018, awards, Cao, holzman, Hoorfar, Mehrabi, school of engineering, Teaching | Leave a response
By Sam Charles on April 26, 2018
In their recent energy simulation, results indicate an over 95-percent reduction in greenhouse gas emissions for the owners of the "home of tomorrow".
Posted in Faculty, General, Graduate Students, Research, SOESpotlight, Spotlight | Tagged Alam, Building Code, Efficiency, Energy, Future, Home, Wilden | 2 Responses