By Sam Charles on January 26, 2022
Not very often does a student get recommended for a research role by an industry collaborator, but that is exactly how fourth-year Electrical Engineering student Joel Johnson began his NSERC's Undergraduate Student Research Award program research with Electrical Engineering Professor Kenneth Chau and VO2 Master.
Posted in Uncategorized | Tagged Chau, Johnson, research, undergraduate, USRA, VO2 Master
By Sam Charles on January 26, 2022
Third-year Mechanical Engineering student Abigail Stokes never thought she'd find herself working with waste treatment sludge as she had aspired to work in the automotive or biomedical industry. Instead, as she starts her second-semester of third year, Stokes is well-ensconced in waste treatment sludge as an undergraduate researcher at UBC Okanagan's Bioreactor Technology Group (BTG).
Posted in Uncategorized | Tagged bioreactor, Co-op, Eskicioglu, research, Stokes, USRA, Waste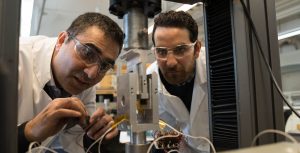 By Sam Charles on April 20, 2020
UBC researchers are partnering with the Okanagan Basin Water Board (OBWB) to develop new policy and planning tools to address flooding in the Okanagan Valley.
Posted in SOESpotlight | Tagged Civil, flood, Flooding, Hewage, Nahiduzzaman, OBWB, Okanagan Basin Water Board, research, Sadiq, water | Leave a response
By Sam Charles on August 30, 2019
Students from Northwestern Polytechnical University (also known as NPU; Chinese: 西北工业大学), in Xi'an, Shaanxi, China, recently visited UBC's Okanagan campus to participate in an intensive research program led by School of Engineering faculty. The enriched academic content including research activities was targeted at first and second-year NPU students from a variety of disciplines including engineering.  It […]
Posted in SOESpotlight | Tagged Camp, Collaboration, NPU, Program, research, Summer, taheri | Leave a response
By Sam Charles on July 11, 2018
Boats that travel through the water, but don't get wet. That's the idea behind new research from UBC's Okanagan campus that aims to make boats more efficient by creating superhydrophobic—or extremely water-repellent—surfaces
Posted in Faculty, Research, SOESpotlight | Tagged clothing, Golovin, Marine, mechanical, naval, research, school of engineering