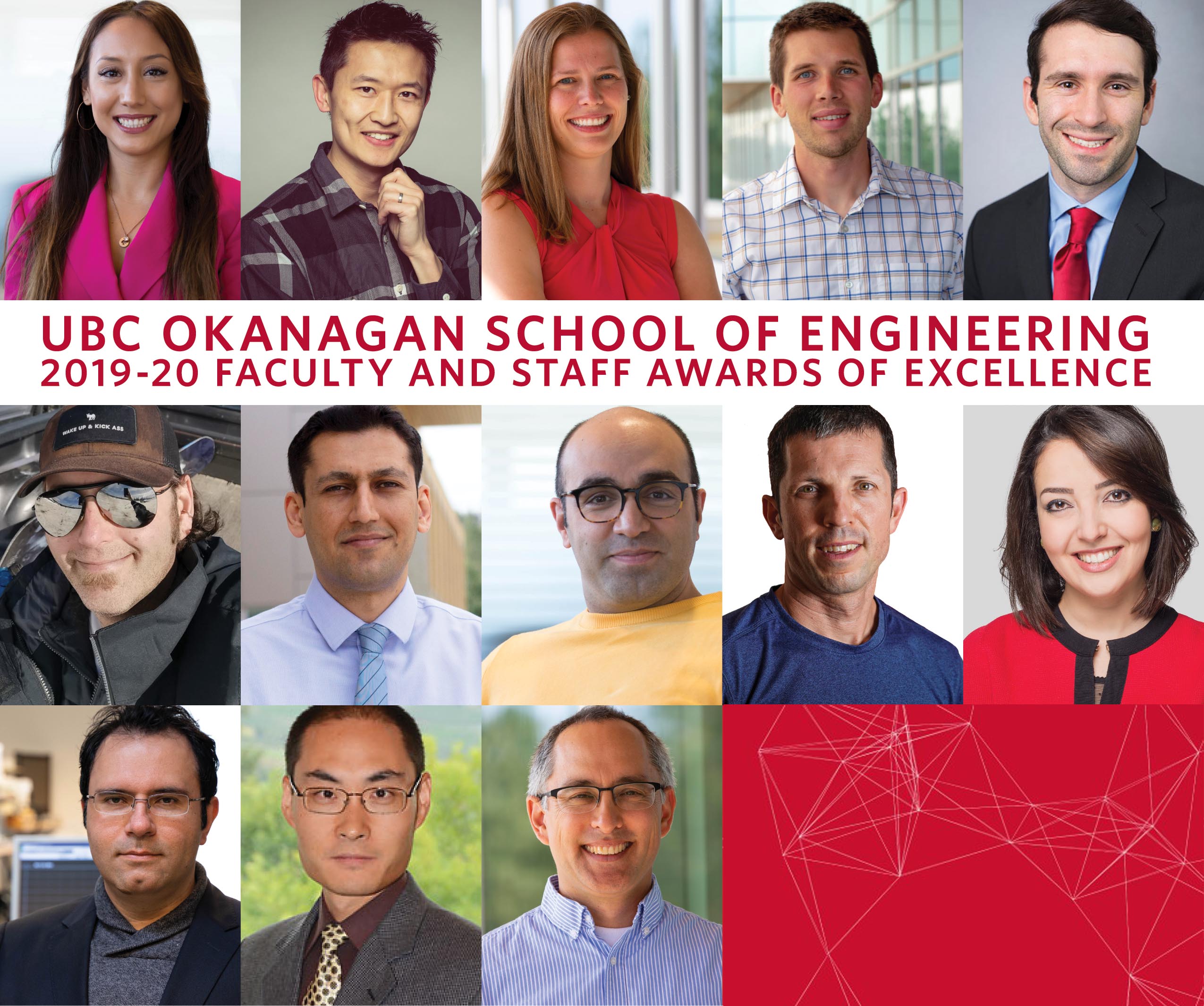 The School of Engineering announced the recipients of its 2019-20 Faculty and Staff Awards of Excellence this afternoon. The awards, delayed as a result of the pandemic, were presented virtually at an all-School virtual meeting. In announcing the awards, Executive Associate Dean Rehan Sadiq emphasized how inspired he has been over the past year by the efforts and determination of School of Engineering students, staff, faculty, and partners. "Every member of our community has made an important contribution that epitomizes the resourcefulness and focus of our School."
The awards are presented annually to both faculty and staff in a variety of categories. Past recipients who are nominated for the same award are recognized through honorary mentions.
FACULTY SERVICE EXCELLENCE
Kenneth Chau continues to create an entrepreneurship culture and platform in the School at the undergraduate level. Dr. Chau is uncovering opportunities and creating connections between the School of Engineering and Entrepreneurship@UBCO.
Sabine Weyand led the creation of the biomedical option, and currently serves as the option Advisor. Dr. Weyand is also playing an instrumental role in disseminating the equity, diversity, and inclusion culture at the School of Engineering.
Honourable mentions: Ian Foulds and Jannik Eikenaar
FACULTY TEACHING EXCELLENCE
Dean Richert has received one of the best teaching evaluations from students with very positive comments. His teaching methods were highly admired by students and peers.
Mehran Shirazi has received exceptional teaching evaluations. His dedication for teaching and student support are highly appreciated by students and colleagues.
Honourable mentions:Lukas Bichler, Yang Cao, and Jonathan Holzman
faculty emerging academic
Sepideh Pakpour is a highly-accomplished researcher with a track record of academic excellence. She leads the Pakpour Lab where her research translates basic microbiome discoveries into applications ranging from bioengineering and biomaterials to medicine.
Mohammad Zarifi is a highly-accomplished researcher with a track record of academic excellence. His research record includes $1.3M in research funding and 12 journal papers. He leads the Okanagan Microelectronics and Gigahertz Applications (OMEGA) Lab.
Honourable mentions: Alexander Uhl
faculty educational leadership excellence
Yang Cao has made significant contributions to educational leadership assisting the development of new pedagogical advances and new programs at the School. He has also played a major role in the COVID-19 Response to support both instructors and students in the transition to online teaching.
Jannik Eikenaar's leadership in EDI and Indigenizing the engineering curriculum helped the School achieve new levels of engineering education. He also holds Bauder Professorship in Experiential Learning & Leadership.
faculty research excellence
Kevin Golovin demonstrated excellent research output as his research record includes $1.4M in research funding, 2 journals papers and 2 conference papers.
Mohammad Arjmand demonstrated excellent research output as his research record includes $1.1M in research funding and 16 journal papers. Dr. Arjmand  holds a Canada Research Chair (Tier 2) in Advanced Materials and Polymer Engineering.
Honourable mentions: Lukas Bichler and Zheng Liu
staff service excellence
Kayla Soriano provides exceptional service to support our undergraduate programs, faculty, students, and staff.  She has taken a lead role in our undergraduate scheduling and timetabling project.  This requires ongoing consultation, data collection, and attention to detail.
Chris Seib has taken a lead role in managing the clean room, developing lab safety protocols and is active in the undergrad mechanical labs.
Sam Charles has provided leadership in augmenting media exposure for the School of Engineering and its faculty, preparing faculty and staff nominations, developing strategic communications and reports, and enhancing the School's web presence.
The School of Engineering will announce the recipients of its 2020-21 awards in June.