Diana Youssefian is a civil engineering graduate of the University of British Columbia's Okanagan campus School of Engineering.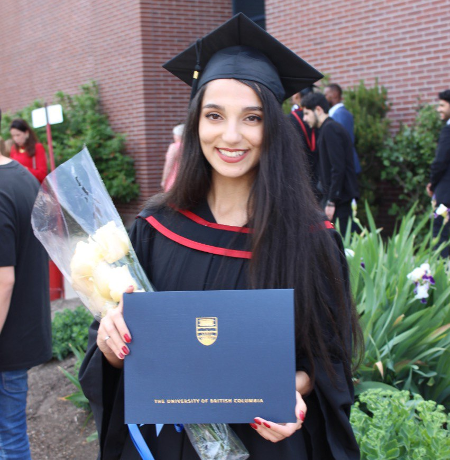 What was your experience studying Engineering at UBCO?
Aside from attending a world-renowned university alongside my sister, UBC Okanagan is a close-knit community that I really enjoyed being a part of. It was easy to meet new people in and out of my program of study and seeing familiar faces everyday made my experience a rich one.
At UBCO, I chose to study civil engineering because I wanted to gain a strong  foundation in structural analysis and design. My goal now is to utilize that  knowledge in my pursuit of an architectural background. I believe my undergraduate experiences will enrich my next journey of becoming an architect.
What is it like to go to school with your sibling?
Going to school with my sister taught me many things. I learned that I should only be competitive with myself. Kiana has been a great source of support and inspiration for me because of her mentorship and excellent accomplishments. She motivated me to work harder and get involved in extracurricular activities which turned out to be one of the highlights of my university experience. We were by each other's side for the struggles, obstacles, and achievements. It was motivating and rewarding to watch each other grow and I am very grateful for that.
Did you get involved in research? What was the research (who was the supervisor)? How was that experience?
I got involved in two very different research projects. Under Dr. Sepideh Pakpour's supervision, I studied the effect of fungal deterioration on the physical properties of hempcrete. I learned about new sustainable building material that can be used to prevent mold to form in humid areas such as Vancouver. This project introduced me to an alternative building material that is more environmentally-friendly than conventional concrete.
During my research experience with Dr. Dr. Mahmudur Fatmi, I had the opportunity to learn new software including Vissim and ArcGIS. Using those software, I modelled a network of roads and intersections to study the contributing factors to transit delay in Kelowna. I also investigated implementing e-scooters as a sustainable mode of transportation in Kelowna. This research experience exposed me to new topics and helped me diversify my software skills.
What have been some of your favourite extra-curricular experiences?
In my first year, I joined the Concrete Toboggan Club to hone my design skills and meet new people. The next year, I became one of the team leaders. This was an opportunity for me to get out of my comfort-zone and develop my teamwork and leadership skills. During this experience,  led the team in designing the assembly of the crate to be displayed at the Technical Exhibition of the Great Northern Concrete Toboggan Race in Toronto. It was very satisfying to see the result of our team's collaborative efforts and hard work. This experience allowed me to cultivate and express my artistic side while discovering my leadership strengths and weaknesses.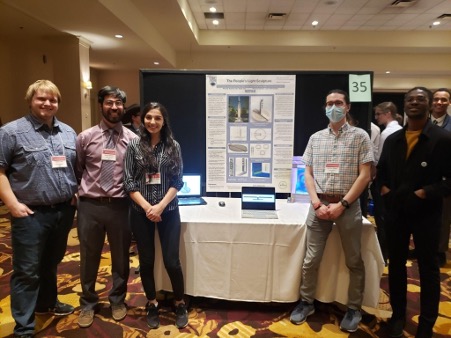 What have been your favourite courses and instructors?
My two favourite courses at UBC Okanagan were ENGR 410 Engineering Leadership and ENGR 542 Engineering and Society instructed by Dr. Alon Eisenstein. During university, I realized how essential it is to learn about leadership and understand our oath and responsibility, as engineers, to society.
On one hand, the course Engineering Leadership changed my perspective of leadership and what it means to lead a team. After taking this course, I practiced my new leadership style as team leader of my Capstone Project. During this experience, I witnessed how significantly my leadership approach can impact the performance of the team and outcome of the project. On the other hand, the course Engineering and Society allowed me to reflect on and question how our decisions and designs can impact society and the environment. The lessons I learned in both courses will stick with me for life.
What's next?
My next step will be to begin pursuing education in architecture. However, I plan to work in the industry prior and I am excited to start the next step of my journey. Architecture and engineering have always been passions of mine. I particularly remember the sense of wonder I felt when visiting historical areas in Iran during my childhood. I was astonished at the choice of building materials and durability of ancient villages. While at UBCO, I learned about important topics including engineering design, sustainability and effective leadership. I aim to implement them to help design a better future for our society and environment.