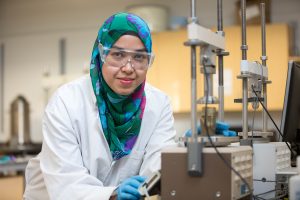 By Sam Charles on January 8, 2020
Having a PhD is the beginning of my new academic journey. It taught me how to be organized, and how to structure scientific research in order to ensure that it leads to significant contributions to the body of knowledge. It's never-ending work.
Posted in College of Graduate Studies, Research, SOESpotlight | Tagged children, Civil, COGS, Grad, Nurmunira Muhammad, PhD, Siddiqua, silty sand, Studies | Leave a response
By Sam Charles on January 8, 2020
UBC Okanagan researchers from the Centre for Transportation and Land Use Research (CeTLUR) will present their research this week at the 2020 Transportation Research Board Annual Meeting in Washington, D.C.  The meeting features over 5-thousand presentations in nearly 800 sessions and workshops featuring topics related to the theme "A Century of Progress: Foundation for the […]
Posted in SOESpotlight | Tagged CeTLUR, Conference, Fatmi, Orvin, Saha, school of engineering, Transportation, TRB | Leave a response
By Sam Charles on October 11, 2019
This group of enthusiastic current students from each program discipline help provide prospective and current students a personal and informative connection to UBC Okanagan Engineering.
Posted in SOESpotlight | Leave a response
By Sam Charles on October 11, 2019
In his first year of undergraduate studies at UBC Okanagan, Logan Tarasoff was introduced to the sport of powerlifting.  According to Tarasoff, the sport encouraged him to establish clear goals to work towards. "If I had a competition coming up in 6 months, I could set some goals then work backwards to determine what I need to do in order to meet those goals."
Posted in SOESpotlight | Tagged Forestry, Logan, MASc, Najjaran, Robotics, school of engineering, Tarasoff | Leave a response