Qurrat-Ul-Ain Nadeem was a postdoctoral fellow at the University of British Columbia's Okanagan campus School of Engineering and is now an assistant professor at the Abu Dhabi campus of NYU.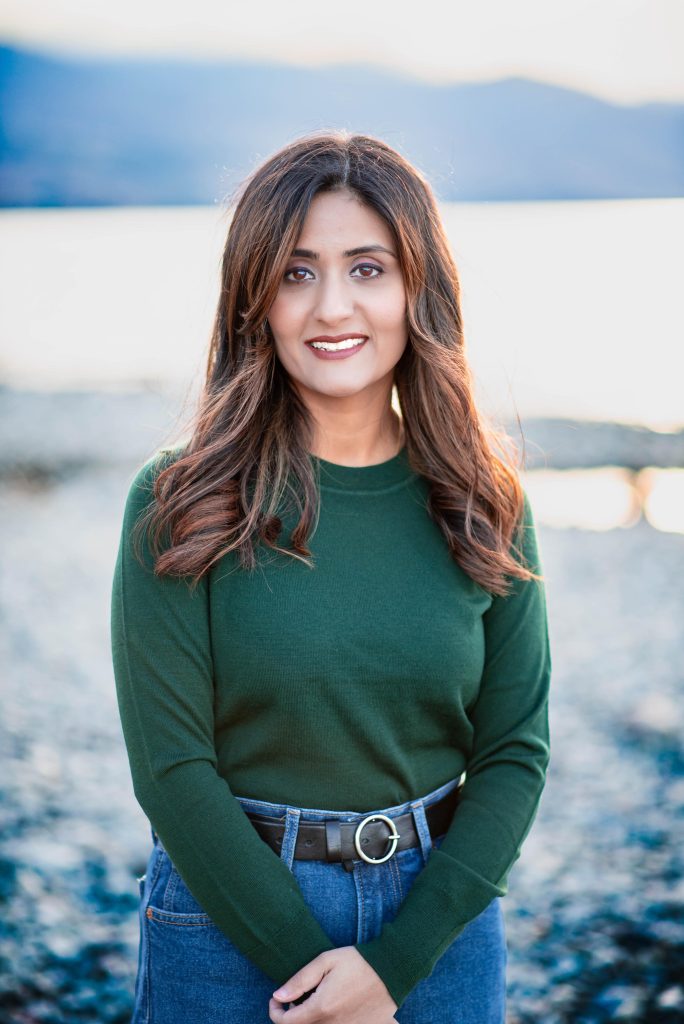 Describe your background and your interest in wireless communication
A research project I did back during my undergrad was my first foray into wireless communication and networking. We solved an optimization problem, allowing calls to hand-off from one base station to another so that power savings can be applied to a maximal number of base stations throughout the cellular network. Having early success with a paper in a leading IEEE conference during my junior year led me to apply for MS/PhD positions focusing on wireless communication research, and I was lucky to be accepted by top schools across the world. Due to multiple factors, I eventually decided to pursue my PhD at King Abdullah University of Science and Technology (KAUST) under the supervision of a world-renowned wireless communication researcher and expert, which turned out to be a highly rewarding experience.
In terms of research, I've always been someone who looks at things from a theoretical perspective because theory is necessary to guide practical designs. I am always looking for opportunities to develop physical layer models for different wireless communication scenarios and techniques, analytically characterize the maximum gains these techniques can achieve under the developed models, and then design protocols and algorithms that can realize parts of that mathematical gain.
My PhD thesis attempted to bridge the gap between the theoretical research on and the industrial vision for a now core 5G communication technology known as massive multiple-input multiple-output (MIMO), that utilizes large antenna arrays at the base stations to realize drastically improved data rates and massive connectivity. I developed new spatial channel models for the analysis of these systems and characterized the maximum number of users that can be simultaneously served, and the maximum data rates these users can experience using 3D beamforming schemes at massive MIMO base stations. My PhD thesis led to my selection as the Paul Baron Young Scholar by The Marconi Society – a prestigious award that is only given to a young researcher 27 years of age or under who accomplishes something significant in the field of communication and networking (27 being the age when Marconi invented the radio).
What originally brought you to UBC Okanagan?
I first came to this beautiful city of Kelowna in March 2019 after accepting the postdoc position in the Communication Theory Lab with Professor Anas Chaaban at UBC Okanagan. It was the perfect opportunity for me to learn from and work with one of the experts in the field of information theory in the world.  I knew Dr. Chaaban at KAUST, where he was well-known to be a great mentor and researcher, and therefore I did not think twice before taking this position. I must say that I was also attracted to the scenic Okanagan valley, the beautiful woods and beaches around it, as well as UBC's international reputation for being a place of outstanding research and education. Reflecting on the past four years I have spent at UBCO working on exciting research projects on beyond 5G communication systems, I can say with certainty that it has been an absolutely amazing experience that allowed me to broaden the scope of my research, build a stronger research and teaching profile, and in doing so I have been privileged to become a part of a supportive and engaging community.
Describe your research and the process of working/collaborating with Dr. Chaaban
My research focus is on the modelling, design and performance analysis of next generation wireless communication systems. During my postdoc with Dr. Chaaban, I worked on an exciting emerging wireless communication paradigm for 6G networks that relies on the use of reconfigurable intelligent surfaces (RISs) in the propagation environment between the communication end-points to realize desired communication, sensing and localization objectives. We studied the fundamentals, challenges and use-cases of this technology, and addressed the critical issues of channel estimation and low-complexity beamforming design for RIS-assisted wireless communication systems.
By understanding and characterizing the fundamental performance gains and deployment benefits offered by RISs and the challenges associated with achieving those gains, our research has aimed to inform the development of sustainable future communication systems where we can achieve large parts of the gains offered by existing power-hungry transmission technologies using low-cost nearly passive reflecting surfaces. Our pioneering research on this topic has been very impactful, and the resulting papers are listed among the most popular readings on this subject by the IEEE Communications Society.
I have also been investigating the performance of massive MIMO and cell-free MIMO architectures that employ low-resolution data converters in the radio frequency chains to pave the way for energy efficient ultra-massive MIMO implementations for 6G. I have been privileged to be a part of an engaging group of researchers in Dr. Chaaban's group at UBCO, and have thoroughly enjoyed and benefited from Dr. Chaaban's insights and advice on different aspects of my postdoctoral research. Dr. Chaaban is truly one of the best people I associate with my career, he is always so kind, patient, helpful and completely invested in each and every ongoing work irrespective of his schedule. I have to add that I am also super grateful for the flexibility he showed as I tried to stay on top of my research goals while learning how to strike a work-life balance as a working mother.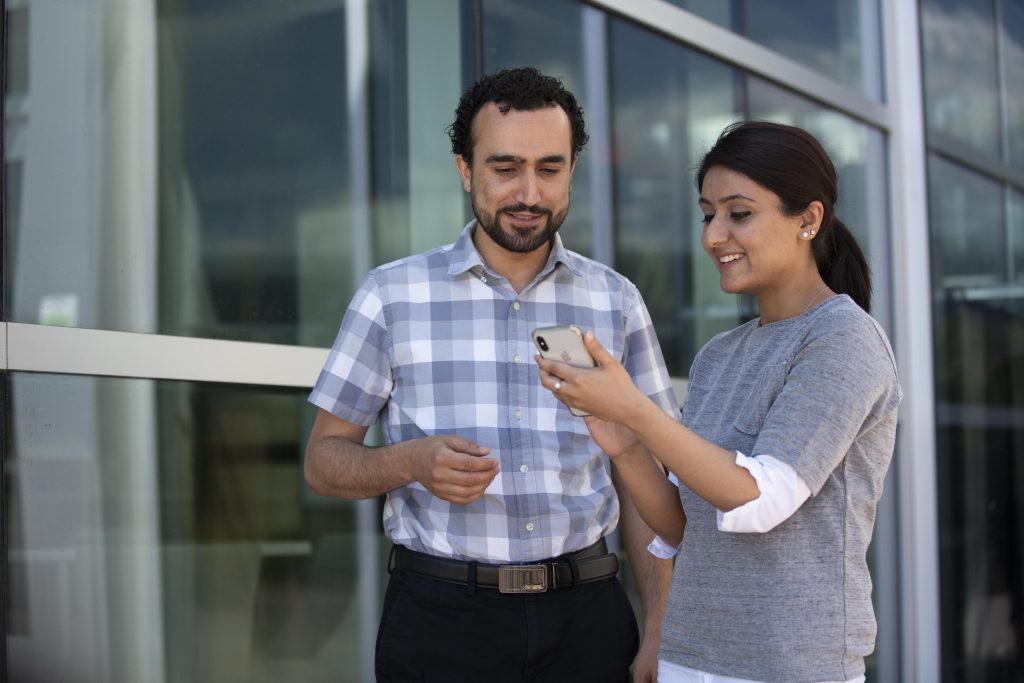 What are some of your fondest memories of your time at UBC Okanagan?
Teaching. I had the pleasure of teaching Engineering Probability and Statistics in Term 1 of 2020 and 2022 . I enjoyed connecting with the wonderful UBC Okanagan students inside and outside the classroom, and teaching them the applications of probability and statistics in different engineering problems. It was wonderful to share my passion for this subject with the students in a way that made the subject interesting for them and they were really able to see the practical relevance of probabilistic tools and models in their respective fields of study. I received a teaching evaluation score of 4.9/5.0 from a pretty big class, and a lot of absolutely heartwarming comments and feedback from the students in the teaching evaluations. Definitely one of the most enjoyable and rewarding aspects of my time at UBCO.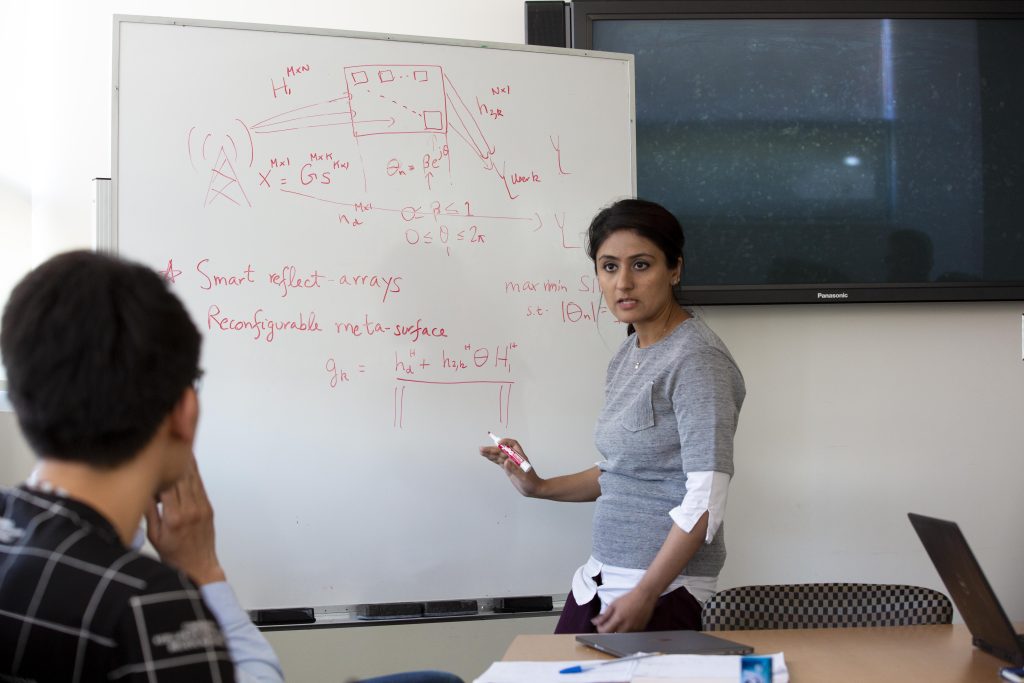 Tell us about your new role. What was the process like landing this great role?
I am joining New York University (NYU) Abu Dhabi as an Assistant Professor of Electrical Engineering starting January 2024. I will also join NYU Tandon School of Engineering in Brooklyn, USA as a Global Assistant Professor of Electrical Engineering at the same time. At NYU, I will be a part of the NYU WIRELESS Research Center, which is one of one of the premier research institutes in mobile communication since 2012 and is led by researchers and engineers who were the main architects behind the key enabling technologies of 5G: massive MIMO and millimetre wave (mmWave). Without these two technologies there would be no 5G network as we now know it.
This is a dream appointment for any wireless communication researcher to start their faculty career. Getting to work with luminaries in the fields of communication and networking as a part of such a renowned wireless research center is so exciting. Of course, the process to get this position was highly competitive, and I went through multiple rounds of interviews (both virtual and in person) to land this role, but it was all worth it since I get to do what I love at a place that I have followed ever since I started my Masters thesis.
What will you be doing?
I will set up an independent research group at NYUAD within the next year that focuses on the modeling, design and performance analysis of next generation wireless communication, sensing, localization and computing solutions. My lab will be investigate the role of programmable metasurfaces as reconfigurable holographic surfaces (RHSs) to enable ultra-massive/holographic MIMO communication systems, and as reconfigurable intelligent surfaces (RISs) to enable controlled reflections of electromagnetic waves in the propagation environment to meet different performance objectives. We will investigate machine learning enabled design and optimization of RIS/RHS assisted communication systems, and also explore the integration of programmable metasurfaces in emerging 6G paradigms, such as integrated space-air-ground networks, Terahertz communication, radio sensing and mapping, user positioning and tracking, energy harvesting etc. My lab will also lead experimental work to build datasets of channel measurements for RIS enabled communication environments that can guide the design and implementation of machine learning based solutions. Starting Fall 2024, I am excited to start teaching engineering courses at NYUAD.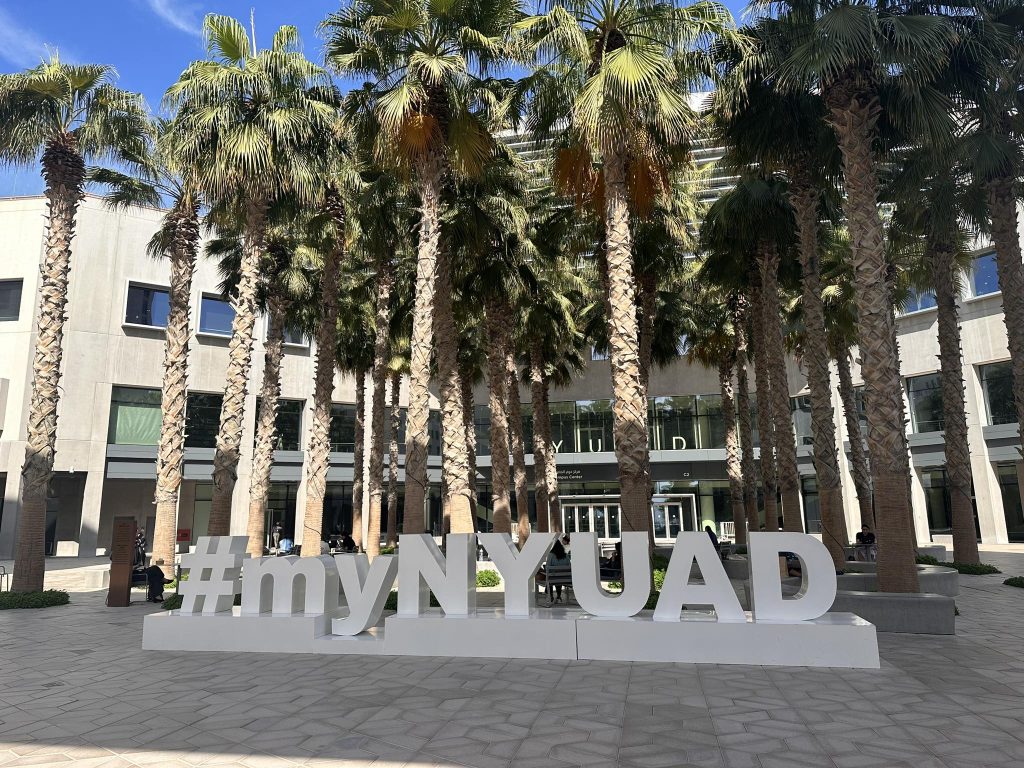 What are some of your future aspirations?
I aspire to be at the forefront of wireless communication research and education in a few years, and make a significant impact as a woman in science leading exciting projects on the development of next generation communication solutions. I also really want to use my work and research to achieve social good through the development of solutions that can bridge the connectivity gap or the digital divide that one third of the world's population currently faces with limited to no access to the Internet. Coming originally from a developing country, this issue is close to my heart and I aspire to one day lead work on low-cost communication solutions tailored for communities with limited connectivity. I also hope to lead a discussion about the lack of a holistic view in the current ICT research landscape to close this digital divide in the conferences and technical meetings that I attend.
Any other interesting anecdotes or stories?
It has been amazing living in Kelowna. I have loved weekend trips to Big White in the winters and hiking in and around the valley in the summer. Fulfilled my lifelong dream of watching Coldplay live a few weeks ago in Vancouver, so overall a great end to a four-year spell