Archives by date
You are browsing the site archives by date.
By Nathan Skolski on January 9, 2020
For many, the question of who to bring along in order to rebuild human civilization during a zombie apocalypse has gone unanswered for too long. Now, six UBC Okanagan professors, all from different fields of expertise, aim to settle the issue once and for all—or at least until next year—as they prepare for the second annual Life Raft Debate.
Posted in Media Advisory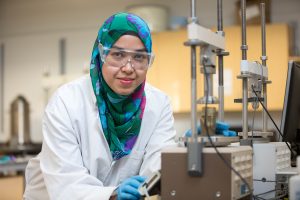 By Sam Charles on January 8, 2020
Having a PhD is the beginning of my new academic journey. It taught me how to be organized, and how to structure scientific research in order to ensure that it leads to significant contributions to the body of knowledge. It's never-ending work.
Posted in College of Graduate Studies, Research, SOESpotlight | Tagged children, Civil, COGS, Grad, Nurmunira Muhammad, PhD, Siddiqua, silty sand, Studies | 1 Response
By Sam Charles on January 8, 2020
UBC Okanagan researchers from the Centre for Transportation and Land Use Research (CeTLUR) will present their research this week at the 2020 Transportation Research Board Annual Meeting in Washington, D.C.  The meeting features over 5-thousand presentations in nearly 800 sessions and workshops featuring topics related to the theme "A Century of Progress: Foundation for the […]
Posted in SOESpotlight | Tagged CeTLUR, Conference, Fatmi, Orvin, Saha, school of engineering, Transportation, TRB | Leave a response