Archives by date
You are browsing the site archives by date.
By Sam Charles on October 11, 2019
This group of enthusiastic current students from each program discipline help provide prospective and current students a personal and informative connection to UBC Okanagan Engineering.
Posted in SOESpotlight | Leave a response
By Sam Charles on October 11, 2019
In his first year of undergraduate studies at UBC Okanagan, Logan Tarasoff was introduced to the sport of powerlifting.  According to Tarasoff, the sport encouraged him to establish clear goals to work towards. "If I had a competition coming up in 6 months, I could set some goals then work backwards to determine what I need to do in order to meet those goals."
Posted in SOESpotlight | Tagged Forestry, Logan, MASc, Najjaran, Robotics, school of engineering, Tarasoff | Leave a response
By Chris Guenard on September 26, 2019
Foresight Cleantech Accelerator Centre, Okanagan College and UBC Okanagan have established a new collaboration to create jobs and intellectual property, and grow the cleantech ecosystem in B.C. and Canada.
Posted in Media Releases | Tagged school of engineering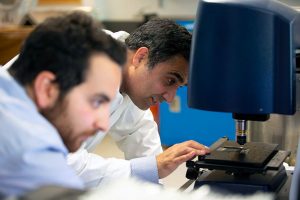 By Bud Mortenson on September 4, 2019
The age-old technique of dressing in layers is a tried and tested way to protect from the elements. Now thanks to $1.5M in new funding for UBC's Okanagan campus, researchers are pushing the practice to new limits by creating a high-tech body armour solution with multiple layers of protection against diverse threats.
Posted in Business, Media Releases, Research, STAR | Tagged school of engineering
By Sam Charles on August 30, 2019
The School of Engineering is pleased to announce that Dr. Rudolf Seethaler has been appointed MEng Coordinator. In this newly created role, Dr. Seethaler will work closely with the School's associate director of graduate studies, Richard Klukas, (and the graduate studies committee) to provide support and direction for the MEng program.  His responsibilities will include […]
Posted in SOESpotlight | Tagged Graduate, MEng, school of engineering, Seethaler, Studies | Leave a response