Archives by date
You are browsing the site archives by date.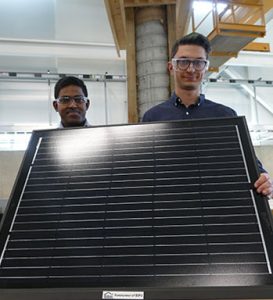 By Patty Wellborn on October 29, 2018
Utilizing solar panels is a recognized way to harness renewable power from the sun. But in Canada and other northern climates, the effectiveness of solar panels in the winter months is reliant on removing obstacles like snow and ice.
Posted in Uncategorized | Tagged school of engineering
By Sam Charles on October 17, 2018
UBC researchers are collaborating with Trail, BC-based Austin Engineering Limited to investigate cutting-edge innovations in dam safety.
Posted in Graduate Students, News, Research, SOESpotlight | Tagged Alam, Austin, Civil, Dams, Fortis, school of engineering, Seethaler, seismic | Leave a response
By Christine Zeindler on October 12, 2018
From wearable technology that monitors physical activity to an online rental platform, UBC entrepreneurs showcased their ideas at the opening of the Innovation UBC Kelowna Hub, Thursday.
Posted in Research | Tagged school of engineering
By Sam Charles on October 3, 2018
Researchers at the School of Engineering are aiding utility companies to re-image how power can and should be distributed using renewable sources
Posted in Graduate Students, Research, SOESpotlight | Tagged Eberle, Electricity, ENBALA, Grid, Power, Renewable, school of engineering, Wang | Leave a response
By Sam Charles on October 2, 2018
Here are this term's tips, tricks and reminders UBC EARLY ALERT SYSTEM This is a system assists students who are noticed to be experiencing challenges.  It provides faculty and staff with a way of offering resources to these students. For more information, visit https://facultystaff.students.ubc.ca/systems-tools/early-alert/how-does-early-alert-work LAST DAY TO WITHDRAW FROM CLASSES November 9, 2018.  All important academic […]
Posted in Staff | Leave a response