Here are this term's tips, tricks and reminders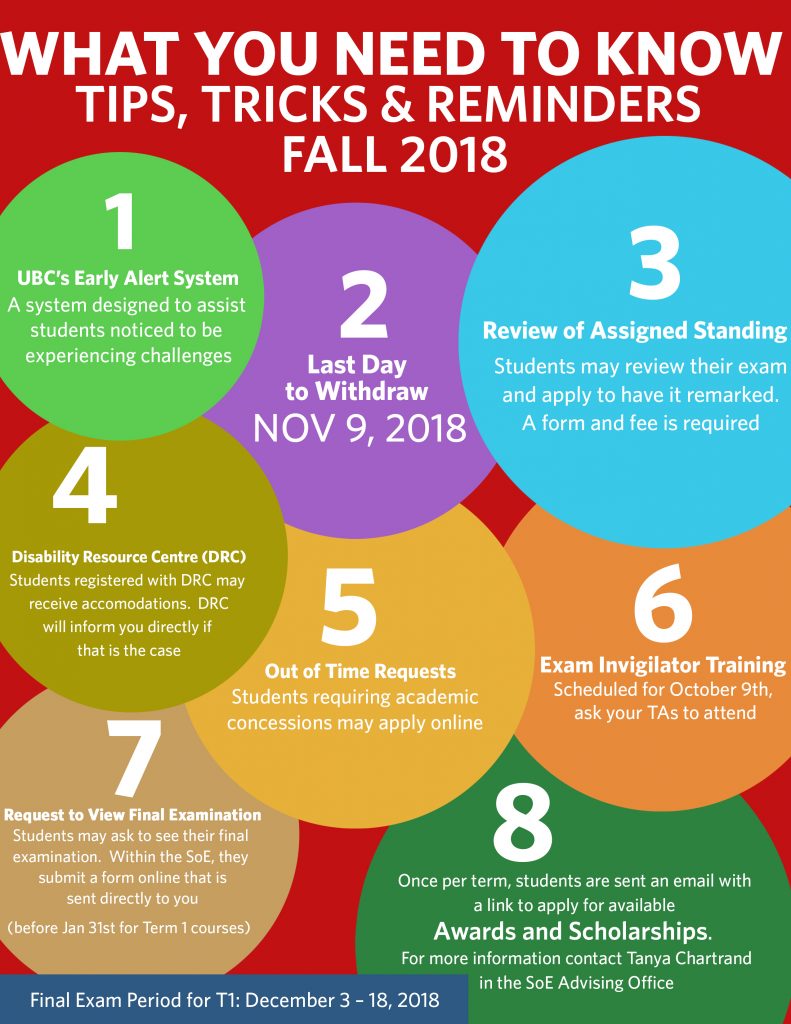 UBC EARLY ALERT SYSTEM
This is a system assists students who are noticed to be experiencing challenges.  It provides faculty and staff with a way of offering resources to these students.
For more information, visit https://facultystaff.students.ubc.ca/systems-tools/early-alert/how-does-early-alert-work
LAST DAY TO WITHDRAW FROM CLASSES
November 9, 2018.  All important academic dates are available in the academic calendar.
DISABILITY RESOURCE CENTRE (DRC)
Students who are registered with Disability Resource Centre may have been approved for different considerations.
The DRC will be in touch with you directly should a student need to schedule your examination with them.
ACADEMIC MISCONDUCT RESOURCES
Details about academic misconduct are available in the academic calendar.
Any undergraduate concerns can brought to the attention of Yang Cao.
CAMPUS REFERRALS/HELPFUL LINKS
School of Engineering Advising Office
REQUEST TO VIEW FINAL EXAMINATION
According to UBC Policy, students may ask to see their final examination.  Within the School of Engineering, they submit a form online that is sent directly to you (this request must be submitted before January 31st for Term 1 courses).
Please arrange a time for the student to view the exam that is convenient for your schedule. The form can be found here: https://engineering.ok.ubc.ca/current.html, Forms and Links.
REVIEW OF ASSIGNED STANDING
Should a student remain dissatisfied with their grade after they have reviewed their exam, they can apply to have their examination remarked.
There is an application form and a fee required, and all information can be found here: http://www.calendar.ubc.ca/okanagan/
OUT-OF-TIME EXAMINATION REQUESTS
According to UBC Policy, students in need of Academic Concession can apply online with appropriate documentation.
The form can be found here: https://engineering.ok.ubc.ca/current.html
AWARDS & SCHOLARSHIPS
Once per term, students are sent an email with a link to apply for available Awards and Scholarships.  These awards are managed through Enrolment Services and adjudicated by the School of Engineering Undergraduate Scholarships and Awards Committee.
If students would like further information, they can connect with Tanya Chartrand in the SoE Advising Office.