UBC researchers are collaborating with Trail, BC-based Austin Engineering Limited to investigate cutting-edge innovations in dam safety.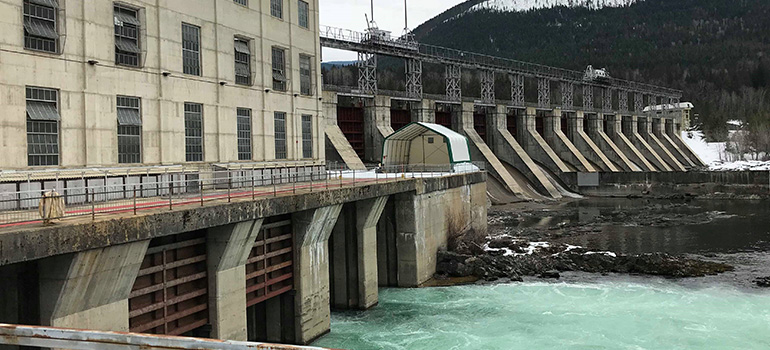 The researchers used 3D printed dam models for hydraulic and seismic testing at both the Austin Engineering hydraulics lab and labs at the Okanagan campus of UBC.Using a model based on a FortisBC dam developed with existing research partners from Selkirk College and Fortis, the researchers looked at complex dam-water interactions.
PhD candidate Anas Salem Issa along with Associate Professors Drs. Shahria Alam and Rudolf Seethaler created physical models with materials that matched the natural frequency of the actual dam.
According to Issa, different types of materials were used to match the natural frequency of the model dam to that of the actual one from field observation considering scale effect. "We measured the response and force generated within the dam to predict the outcomes."
Through the use of UBC's state-of-the-art shake table facility, they were able to test the digitally fabricated gravity dam to ascertain potential damage during a seismic event.
They were able to identify the cumulative impact of a seismic event and upstream water on the structure of the dam.
"The discovery was that a dam responds quite differently when tested on a shake table with the water on the upstream side; in fact the water actually had a dampening effect on the dams' seismic response in the tests," explains Roger Austin, Principal Engineer. "This is really significant because many dams require seismic upgrades, and in many cases the scope of the upgrade could potentially be reduced by properly testing a scaled model with a full pool of water upstream." The studies findings may lead to safeguarding existing and future dams worldwide while protecting residents who live and work downstream of these facilities.
"Seismic research on buildings, bridges or roads – on static structures – is really well done. We know engineers can very easily analyze if a building is to be seismically stable," explains Mary Austin, Director of Business Development. "The challenging thing about dams is you have a static structure with a massive body of water in constant motion behind it, and the interaction between the dam and water during an earthquake is not well understood."
The research is being showcased this week at the Canadian Dam Association (CDA) Conference in Quebec.
"This technology provides real-time modeling of the dam against numerous factors, which is a powerful tool in portraying project concepts and details to diverse audiences," explains Darren McElhinney, Senior Project Manager, Generation, FortisBC. "Our team believes that 3D modeling is a cost-effective and innovative method that can be used on projects from concept through to completion, and we are excited to see how it develops."
To find out more about the project visit http://www.austinengineering.ca/
For more information about UBC Okanagan graduate student Anas Issa and his research visit https://apsc.ubc.ca/spotlight/anas-issa