Archives by date
You are browsing the site archives by date.
By Sam Charles on May 16, 2018
It's not your everyday test drive. The first-ever personal belongings carrier, specifically designed for homeless people, is ready to roll onto Kelowna sidewalks.
Posted in Uncategorized | Tagged school of engineering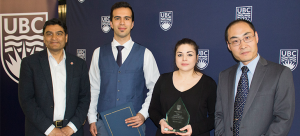 By Sam Charles on May 3, 2018
The School of Engineering well-represented at the 2018 Provost's Teaching Awards Reception in all categories.
Posted in Faculty, SOESpotlight, Spotlight | Tagged 2018, awards, Cao, holzman, Hoorfar, Mehrabi, school of engineering, Teaching | Leave a response
By Sam Charles on May 2, 2018
Physical activity is an effective way to help improve the many mental and physical effects of breast cancer treatment. Yet, studies show up to 70 per cent of breast cancer survivors are not getting enough activity.
Posted in Uncategorized | Tagged school of engineering