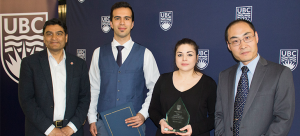 By Sam Charles on May 3, 2018
The School of Engineering well-represented at the 2018 Provost's Teaching Awards Reception in all categories.
Posted in Faculty, SOESpotlight, Spotlight | Tagged 2018, awards, Cao, holzman, Hoorfar, Mehrabi, school of engineering, Teaching | Leave a response
By Sam Charles on April 3, 2018
Team "Project Atticus" won both the design showcase and obstacle course portions of the 2018 APSC 258 Hovercraft Competition.  The team was represented by Natik Aggarwal, Kevin Ma, Nathanael Sacchetti, Jenna Fowler, Jack McClelland, Neda Ben Fredj and Nicholas Sabry.  Congratulations to all the participants.
Posted in Events, News, Undergraduate Students | Tagged 2018, APSC 258, Hovercraft | Leave a response