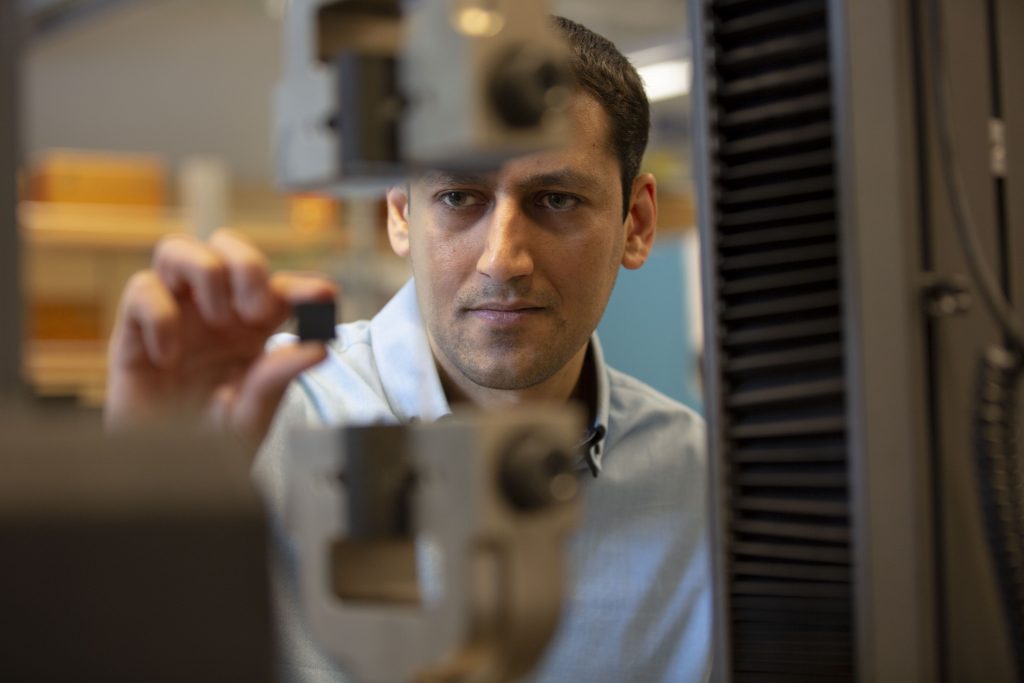 Bridging interdisciplinary science and composite research, Mohammad Arjmand explores innovations in multifunctional polymer nanocomposites as the first Canada Research Chair (Tier 2) at the School of Engineering.  The official title of the Chair is Canada Research Chair in Advanced Materials and Polymer Engineering.
Polymers, often associated with plastics, provide researchers with flexible materials that can be used in a variety of applications from electronics and medical devices to military and information technology solutions.
By incorporating nano-scale materials inside polymers, researchers like Arjmand strive to find effective solutions to challenges facing a variety of industries.
"Polymer nanocomposites are beginning to replace metals that have long been the go-to material for transmission whether it be electricity or other types of signals" explains Arjmand.
Based on their affordability, weight and malleability, many industries see an upside to transitioning to polymer nanocomposites. Arjmand synthesizes and creates his own nano-scale materials, which differentiates him from other researchers in the field of nanocomposites who tend to outsource nano-scale materials.
The nano-scale materials developed by Dr. Arjmand have a dimension 1/1000 of human hair. When incorporated into polymers, forming nanocomposites, they render materials with outstanding physical properties, superior to metals.
"By controlling the development process from the concept stage, we control the nanocomposites electrical conductivity and electromagnetic properties" explains Arjmand.
Using nano-scale materials made of carbon and metals, Arjmand's nanocomposites exceed the benchmarks established in electrical conductivity, thermal conductivity, and mechanical strength by materials that sectors such as automotive, aerospace, information technologies and health care have long relied upon.
Employing nano-scale materials and nanocomposites, Arjmand will also explore polymer capacitors for advanced electronics and develop advanced gas sensing technologies.
Learn more about new and renewed Canada Research Chairs at https://www.canada.ca/en/research-chairs/news/2019/06/government-of-canada-announces-talented-and-diverse-group-of-new-and-renewed-canada-research-chairs.html
More information about the Canada Research Chairs can be found at www.chairs-chaires.gc.ca