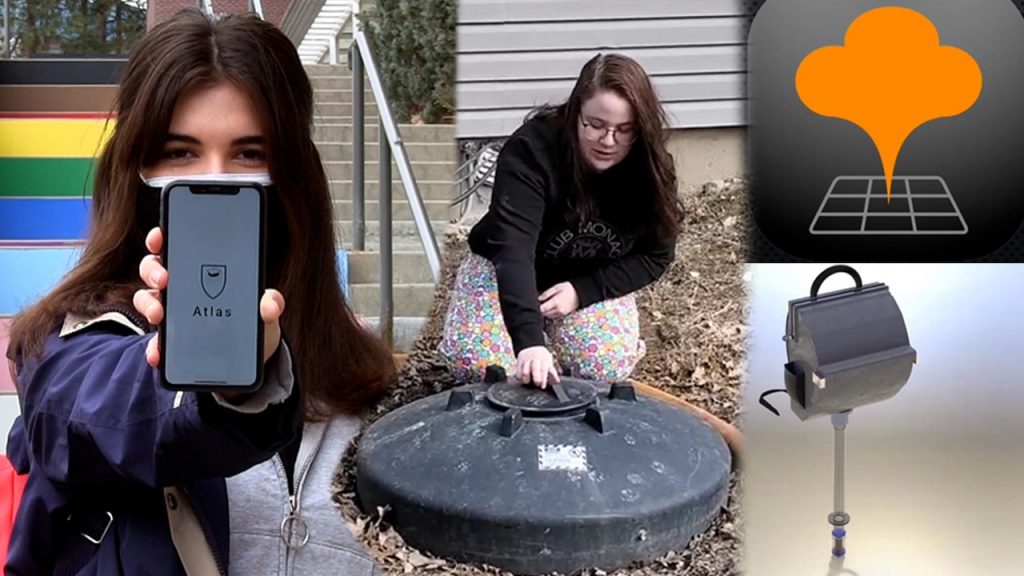 Three teams have been selected to receive funding to launch student-led start-ups to solve real-world problems as part of the School of Engineering's Innovation, Entrepreneurship & Impact Fund.
Check out the teams' July 2021 progress report
"This is the first year we've run this initiative, and the response was amazing," says Associate Professor Kenneth Chau, who oversaw the adjudication process. "The concepts and proposals from all the submission made the decision process really challenging."
The winning teams proposed diverse projects that aim to improve water quality in Indigenous communities, increase access to student wellness resources, and combat auto theft.
"Our students continue to demonstrate a passion for making the world a better place," explains Professor of Teaching Ray Taheri. "I see it in all my design courses, but to see it in these student-led proposals was truly inspiring."
A team of first-year engineering students including Sydney Strocen, Mikhail Ignatyev, Alex Wiggins, Sam Keeble, and Emilia Dyck are proposed a water filtration system that removes dirt, biomaterials, and foreign objects from the water supply while the cistern is being refilled and idle. The system is intended for Indigenous communities, and was originally developed as a project APSC 169 Fundamentals of Sustainable Engineering Design. The team is planning on using the IEI resources to prototype and undergo further testing.
The Atlas App Team consisting of third-year electrical engineering student Erika Pineo along with her teammates Nicole Keeler (third-year, electrical) Dorna Hatami (third-year electrical), Weston Vanderveen (third-year, civil), and Alex White (third-year physics) are developing an app that enables easier access to student resources while building a more connected campus community. The app has a particular focus on student wellness, but will also include a variety of links for academic, social, and general campus information. The funding will be used to develop the concept and enable testing at campuses across Canada.
Fourth-year electrical engineering student Connor Scott along with his Team Cloudtrac teammates Enrique Caldron (third-year, electrical), and David Rojas (alumni, UBC Okanagan Management) are designing a theft prevention GPS tracker intended for motorcycles, ATVs, boats, classic cars, and trailers. The team has already designed and assembled some prototypes, and intends to use the IEI Funding to start beta-testing and launching a kickstarter campaign.
The winning teams were selected by an adjudication committee that included Drs. Kenneth Chau, Ray Taheri, Lukas Bichler, Vicki Komisar, and Alon Eisenstein. The teams all receive $10,000 in start-up capital along with mentorship from an assigned faculty members, and an experienced entrepreneur.
A fourth team will receive $5,000 to undertake the development of a Mobile Filtration Backpack. The primarily first-year team including Yosamin Esanullah (first-year engineering), Elana Wood (second-year, electrical), Mana Tokuni (first-year engineering), Yamen Shaheb (first-year engineering), and Sarah Adelaja (first-year engineering) is seeking to build upon its APSC 169 SIP (Safety in Purification) project. Using carbon and membrane micron filters, the team has designed a portable filtration system that fits in a backpack, and is designed to last up to 128 weeks. It is a solution ideally built for remote communities to address drinking water contamination.
According to Assistant Professor of Teaching Alon Eisenstein, great ideas such as these proposals still need a boost. "The common theme for all of these winning entries is their strong connection to the people and communities whose problem they are trying to solve. But money alone won't make the concept a reality, these teams have lots more to learn and evolve their ideas. That's why, in addition to the IEI Funding, access to resources and mentorship is so important."
The School's Executive Associate Dean, Rehan Sadiq couldn't agree more. "We are already anxiously awaiting the results of what these teams will accomplish over the summer. I am confident that these student-led social-innovation initiatives will make a genuine impact on our community."
A key component of the IEI Funding is developing an ecosystem where students can immerse themselves in work-integrate learning. The winning teams will work on their projects over the summer semester, with a progress report to be delivered in the Fall.
For more information about the Innovation, Entrepreneurship, and Impact Fund visit https://engineering.ok.ubc.ca/student-resources/innovation-and-impact-dean-fund/.