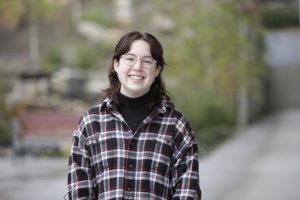 January 26, 2022
Building a cleaner and more sustainable planet is motivating third-year Electrical Engineering student Erika Pineo. She spent the last 16-months on co-op with 2 different organizations after completing her first two-years of undergraduate studies.
Posted in Uncategorized | Tagged APSC 169, Co-op, Electrical Engineering, Fortis, Geering Up, Pineo
April 23, 2021
Winning teams selected to receive funding to launch student-led start-ups to solve real-world problems as part of the School of Engineering's Innovation, Entrepreneurship & Impact Fund.
Posted in SOESpotlight, Uncategorized | Tagged 169, 2021, app, Bichler, Caldron, Chau, Dyck, Eisenstein, Entrepreneurship, filtration, Funding, gps, Hatami, IEI, Ignatyev, Impact, Indigenous, innovation, Keeble, Komisar, Pineo, Rojas, Scott, Strocen, student, taheri, Vanderveen, vehicle, water, wellness, White, Wiggins | Leave a response