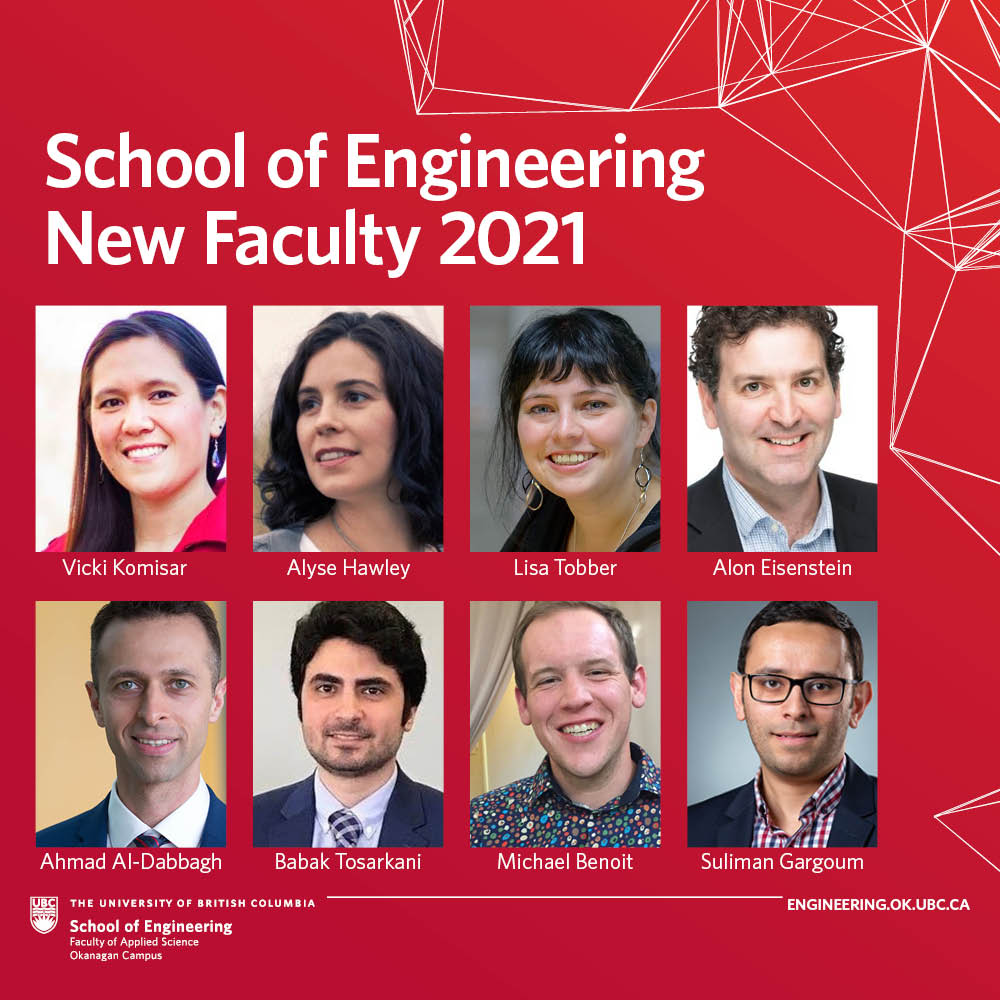 On a Zoom call in late November, three new faculty members met to discuss their preparations for the upcoming year. The three incoming faculty are among ten incoming faculty that are starting at UBC Okanagan's School of Engineering over the next year. Lisa Tobber, Vicki Komisar and Alyse Hawley represent different (engineering) disciplines and areas of research, but they do share a common goal. All three are focused on increasing access and experiences for under-represented students in engineering.
"We wanted to meet ahead of our start dates to get acquainted, and see if there are some areas where we can collaborate and help each other out," explains Tobber, an assistant professor of civil engineering with a research focus on developing smart structural systems particularly related to tall buildings.
Tobber and Hawley both start in July 2021. Tobber is currently completing her PhDs at UBC, and Hawley is a postdoctoral fellow at the University of Calgary. Hawley's research integrates a systems' ecology approach with big data science to uncover how microbial metabolic interactions impact natural and engineered ecosystems.
Whether it is structural or biomedical applications, all of our research connects through the application of big data," says Komisar, an assistant professor of mechanical engineering who starts in January 2021. Komisar's research evaluates how the use and design of assistive technologies, homes and care settings affects the safety and independence of mobility, and the risk for falls and fall-related injuries.
"I think all three of us understand the important role that faculty mentorship plays when it comes to appealing to under-represented groups," says Hawley. Her experiences traveling and working India and Africa, along with growing up in Los Angeles and Vancouver, have formed an indelible mark on her career in academia. "Students entering academia, and especially research, need champions and mentors to help create environments that empower these students to succeed."
What drew many of the new faculty to the Okanagan campus was the opportunity to build inter-disciplinary research initiatives at a new and growing campus that embraces this philosophy.
In January, the School will welcome four new members of faculty including: Michael Benoit (Manufacturing), Alon Eisenstein (Entrepreneurship), Komisar (Mechanical), Babak Mohamadpour Tosarkani (Manufacturing). Ahmad Al-Dabbagh, Principal Chair in Control Systems and assistant professor of Manufacturing Engineering, started in July 2020. Five additional faculty (four in Civil and one assistant professor in Electrical/Mechanical) are scheduled to start in July 2021.
According to Executive Associate Dean Rehan Sadiq, these new hires represent an important shift in the development of the School and its research initiatives. "To continue our success, the School needs to appeal to researchers who can make an immediate impact within our established research clusters." Sadiq points to sustained enrollment growth and research funding as an indication that the School is on the right trajectory. "As a School, we need to continue to offer courses that appeal to incoming students and address the shifting trends within engineering."
Along those lines, the incoming faculty have backgrounds in data analytics, entrepreneurship, biomedical engineering, microbial community engineering, and advanced manufacturing so their expertise complements very nicely the existing research clusters while addressing current and future trends.
"One of the on-going strengths of the School is how agile and nimble our students, faculty and staff have proven they are," explains Sadiq. "Many engineering programs aren't designed to shift quickly to address pedagogical or research challenges, but because of our unique make-up, those challenges are much easier to overcome."
Tobber, Komisar and Hawley couldn't agree more. "We all come from different academic and research backgrounds, but solving the major challenges of the 21st century requires that we bridge not only different engineering disciplines, but also work with other faculties, and the community at large," says Komisar, "and these are areas and approaches where UBC Okanagan excels."