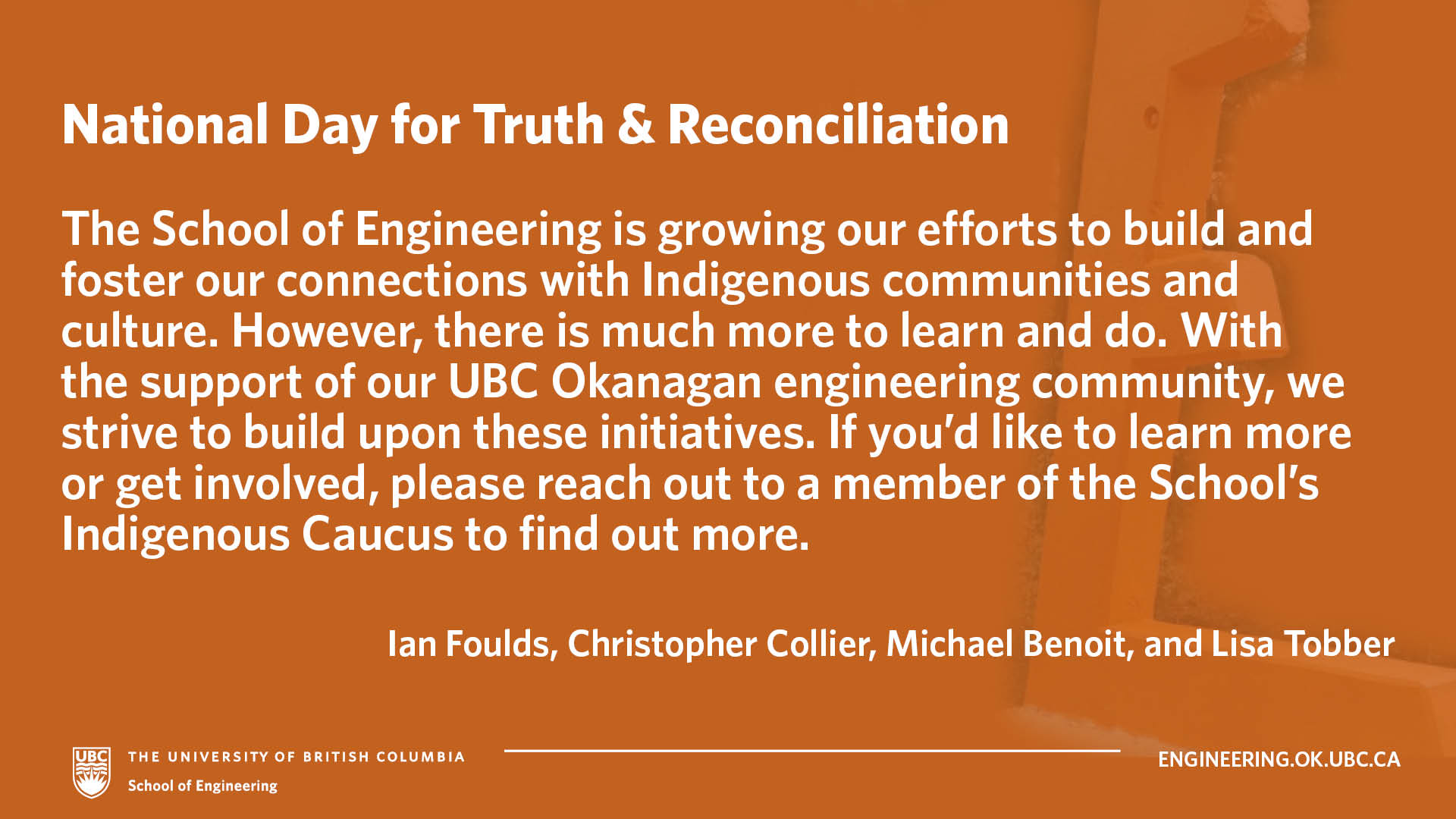 Message from UBC Okanagan School of Engineering Indigenous Caucus regarding the National Day for Truth & Reconciliation

The National Day for Truth and Reconciliation is a day to reflect on and recognize the lives that were lost and impacted by the residential school system. At the School of Engineering, we believe everyone should take this time to consider the tremendous negative impact that the residential school system, and more broadly, colonialism, has had on the Indigenous Peoples of Canada.
The School of Engineering is growing our efforts to build and foster our connections with Indigenous communities and culture. However, there is much more to learn and do. With the support of our UBC Okanagan engineering community, we strive to build upon these initiatives. If you'd like to learn more or get involved, please reach out to a member of the School's Indigenous Caucus to find out more.
We all play a role in reconciliation. Please participate by listening, learning, and working towards addressing the past wrongs done to Indigenous Peoples in Canada.
Ian Foulds, Christopher Collier, Michael Benoit, and Lisa Tobber
School of Engineering Indigenous Caucus
Message from the School of Engineering's Director pro tem
UBC will observe the National Day for Truth and Reconciliation on September 30th. The Day honors the children who suffered in the residential school system. I encourage you to read the full UBC statement, and BC's Ministry of Indigenous Relations and Reconciliation news release related to Orange Shirt Day. In particular, an important goal of observing the Orange Shirt Day is for us to:
… use this opportunity to consider what each of us can do as individuals to advance reconciliation with Indigenous peoples and to recommit to understanding the truth of our shared history, to accept and learn from it and in doing so, help to create a better, more inclusive British Columbia.
As a father, I can't begin to image the horror of having your child taken from you. Not to mention having your culture and community destroyed as a result. As engineers, we have a role to play in renewing relationships with Indigenous peoples and their communities based on recognition of rights, respect, co-operation, and partnership. I urge you to take a moment on September 30th and reflect about what each of us can do to advance reconciliation.
Lukas Bichler
Director pro tem
Truth & Reconciliation Resources