Kailey Beckie is in her first-year at UBC Okanagan's School of Engineering. The Schulich Scholar started her journey to become a professional engineer in September 2020. Kailey just wrapped up her first midterm season, the School of Engineering checked in to see how she is doing.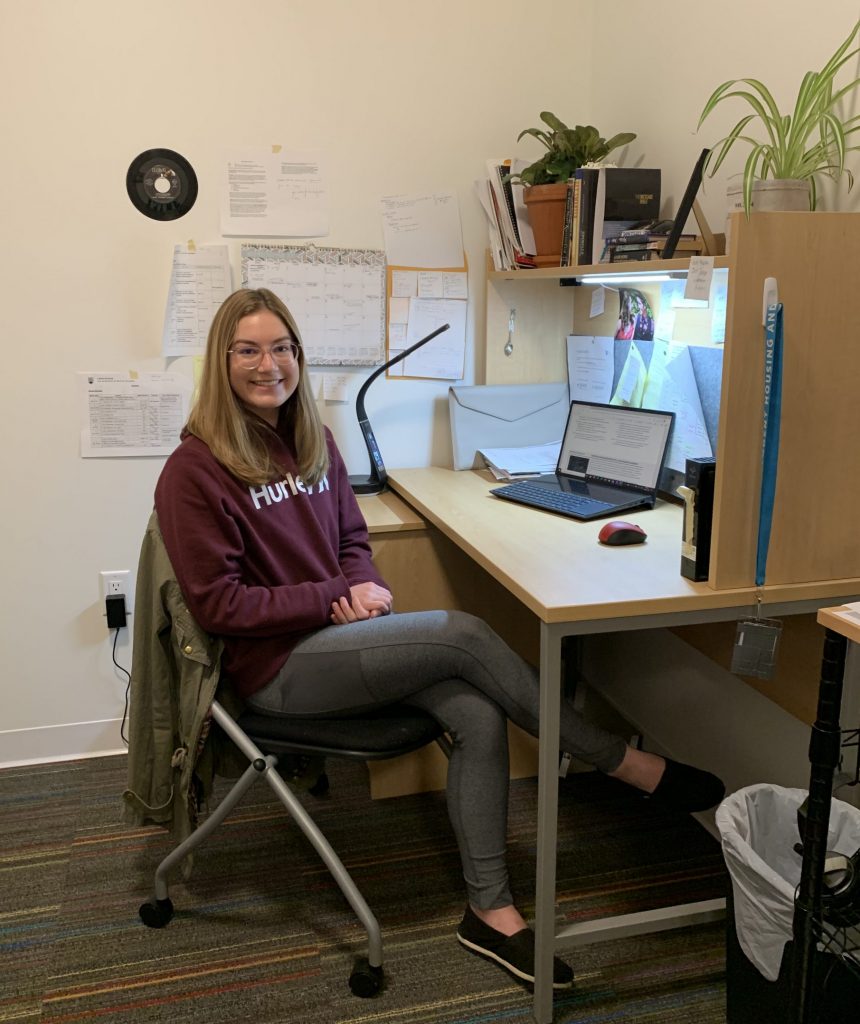 What drew you to engineering? And to UBC Okanagan?
I was drawn to Engineering because it is extremely diverse. I plan on specializing in Mechanical Engineering and I don't know what I want to do once I graduate in four years time. However, I know that because this degree is extremely encompassing, and I will be able to find a niche where I can excel. I chose to study here at UBC Okanagan because of its fantastic academic reputation, smaller campus, and beautiful location.
What has been the impact thus far of being a Schulich Scholar?
Being a Schulich Scholar, I am a member of the Society of Scholars here at UBC Okanagan. The members and coordinators of this group are fantastic and are such great people to know. Additionally, being a Schulich Scholar was a huge help in securing a UBC Okanagan Society of Engineering Directorship.
Favourite courses and instructors in so far?
I have been thoroughly enjoying Statics and Engineering Drawing CAD/CAM. Statics is the Engineering first year physics course and focuses on force systems and movement. Engineering Drawing CAD/CAM covers orthographic and pictorial drawings as well as Solidworks. This course has been my first exposure to online modelling at this level and I have been loving it. The modelling skills we are learning in this class are directly applicable to the real world and I can see using these skills frequently throughout my career.
What has the transition from high school to university been like for you?
The transition from high school to university is difficult for everyone. The workload increases, the expectations are higher, and midterms and finals create two or three extremely heavy weeks throughout the year. I had to give myself time to adjust and change my study habits.
I'm also finding that the types of courses I'm taking in University are more catered towards my interests. For certain units and projects, I enjoy putting in time because the material is interesting and engaging.
What's been your experience overall since the start of the pandemic?
The pandemic has drastically changed my first year experience, as it has for everyone. I was fortunate to move to campus this term and have access to a fantastic in-person Engineering community. Though classes are online, I can still meet up with other students to work on projects and assignments. Campus is quite empty this term, and on weekends it's comparable to a ghost town, but this also means that it's easy to recognize people on campus and that our faculty communities are closer than ever (as close as we can be while staying six feet apart). My overall experience since the start of the pandemic has been amazing. Though online classes are challenging, knowing a group of people who are working towards the same goal under the exact same circumstances is very inspiring.
What do the next few years look like for you?
If I'm completely honest, I don't know what the next few years are going to look like, but I'm hoping to explore some of the research/work opportunities offered by UBC Okanagan and see if some of these experiences can solidify my choice of  career. I'm hoping to find an internship or research opportunity in the field of Engineering over the summer months.
What are some of your goals once you complete your undergrad?
I want to give back to the communities and programs that have gotten me to where I am today. 4-H and HYRS are the two programs that come immediately to mind, and that I can see myself continuing my connections in the future. I was thrilled to be able to give a presentation to the HYRS 2020 cohort on applying for scholarships and studentships, and 4-H is always seeking volunteers, mentors, and judges.
Describe your term so far. What was it like? High points? Challenges?
I moved in a few days before classes started and got to know the people on my floor. Luckily enough, there were several Engineering students living just a few doors down and by the end of the week we'd formed a friend group. I was used to playing sports all throughout high school and was missing the activity and camaraderie they provided until one of my friends found the UBCO Blitzball league. My friend group formed a team, and we've had an absolute riot playing Blitzball for an hour every Friday night. I do most of my studying in my room or in one of the common rooms in my residence building. If I need a change of scenery I'll head to the Engineering building or try to find a Tim's off campus. My daily schedule changes week to week. During midterms I'm up early and in bed late, and on lighter days I'll take some time off to get outside and explore beautiful Kelowna. One of the high points of my semester so far has been all of the people I've met and one of my greatest challenges has been learning to properly budget my time.