Stephen Kimanzi, MASc '18 (Mechanical)
Why did you choose to study at UBC Okanagan?
The chance to study at a prestigious university in a wonderful location made the choice quite simple for me. Coupled with the relatively young age of the campus at the time and its small size, I saw this as an opportunity to learn and grow with the university.
What has the experience been like thus far?
I have enjoyed my time at UBC Okanagan. Each year brings its own challenges and opportunities.
Describe your research
My research work involves devising processes and formulating equations which are readily applicable for material selection in traditionally complex challenges like impact absorption and blast attenuation. The aim is to create a baseline decision making process that can be used to filter out materials without rigorous experimental work.
What do you enjoy about working with your supervisor and your research group? 
My supervisor's (Rudolf Seethaler) commitment to scientific congruency is one of the most enjoyable aspects of my research. I have had the opportunity to review and critique numerous works by considering fundamental scientific understanding and identifying situations where certain definitions might not hold. I find it enjoyable understanding the limits of our knowledge because only then can we move forward.
Can you talk about the importance of the EGSS to your experience at UBC Okanagan? 
The EGSS has been instrumental in relaying mine and other student concerns to the faculty. They also organize social events where I can meet other students and chat about research progress, present my work and even share thoughts on policy changes by faculty. All in all, the EGSS has positively impacted my experience as a graduate student.
What do you like to do when you are not in the lab?
I enjoy learning new languages and playing musical instruments as well as working out. My favourite pass time activity is gaming with friends, especially on weekends. Often, I like to prepare meals that remind me of home and invite friends over.
What extra-curricular activities are you involved in?  Why is it important to you to be involved?
I like to volunteer for different events on campus and playing sports during the school year. I think the significance of extra-curricular activities lies in the name, it's something more, whether it's giving back through volunteering or networking during sports, it adds a different dimension to your personality and helps your see different perspectives.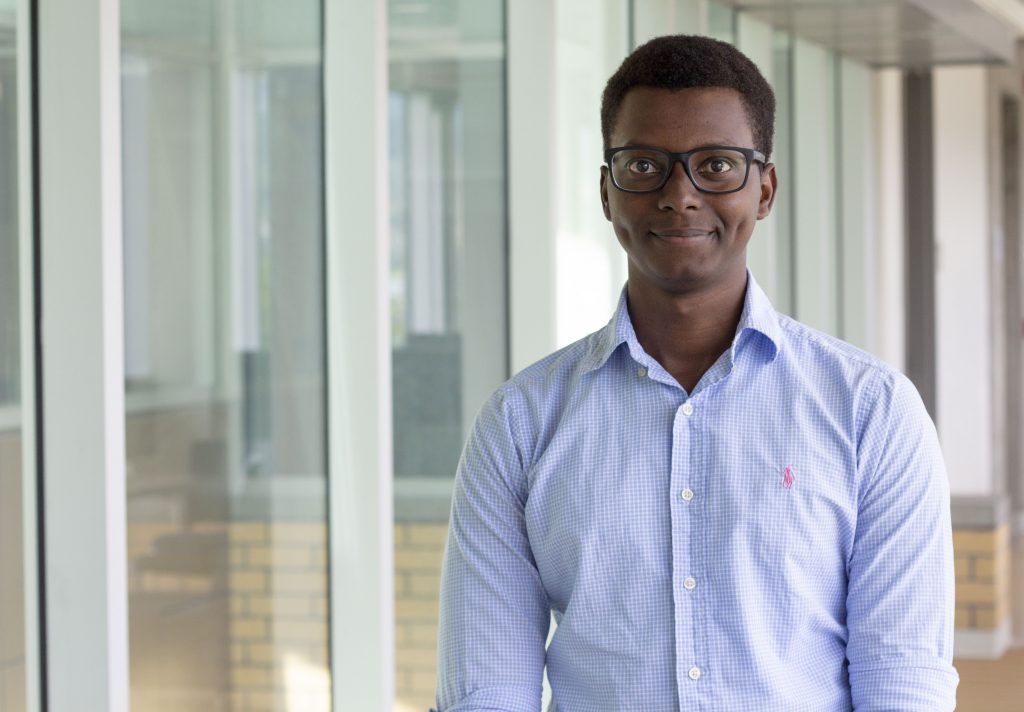 Can you describe your transition to living in Canada? 
As an international student, my transition to Canada was smooth albeit not without some hiccups. For instance, getting acquainted with the food here was a challenge at first but with time I came to understand it. There is also the seasonal weather changes and snow which were all quite foreign to me at first. The school of engineering was instrumental in helping me integrate into the education system by conducting boot camps which allowed me to understand the way the Canadian education system worked and through numerous workshops, assisted me in finding job opportunities through networking events.
Looking ahead 5 or 10 years, where do you see yourself?
In 5 years, I see myself as a fully licenced Professional Engineer working on becoming a key contributor to advancements in Material Engineering.
Best advice you have received so far at UBC?
Understand the fundamentals, everything else is derived.
Advice you'd give to a student considering UBC Okanagan for their graduate studies?
The Okanagan Campus is prestigious and continues to attract world class professionals. This an opportunity to develop your scientific understanding and create excellent connections. There are challenges, like everything in life, but you can overcome them with the support available for you.