The Formula SAE team representing UBC Okanagan made it to the final day of competition at this year's FSAE event in Michigan.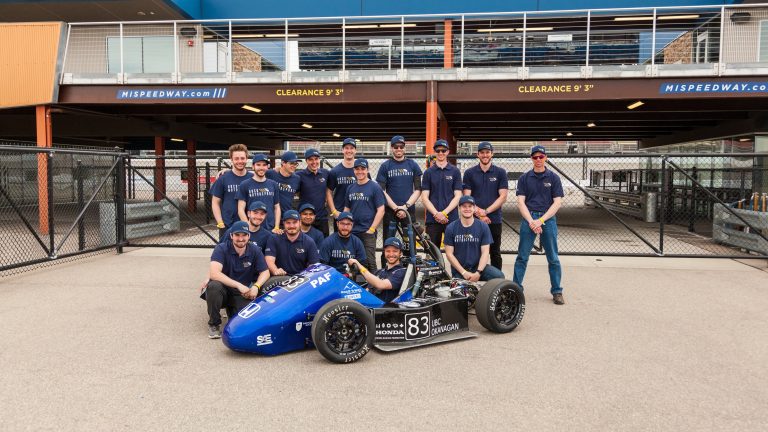 After a journey that spanned nearly four-thousand kilometres, the UBCO Motorsports team brought their racecar (OG19) to the Michigan International Speedway earlier this month.  The competition hosted by the Society of Automotive Engineers (SAE) is an engineering design showcase for undergraduate and graduate students promoting the development and construction of a single-seat racecar judged in a variety of categories including best overall package of design, construction, performance and cost.
The 2019 competition was the second for the UBC Okanagan team using their current platform (racecar) that was originally unveiled last summer in Lincoln, Nebraska.  The car had been substantially improved from that competition including a redesigned oil system, reduced overall weight, the addition of aerodynamic components, and adjustments to the cockpit.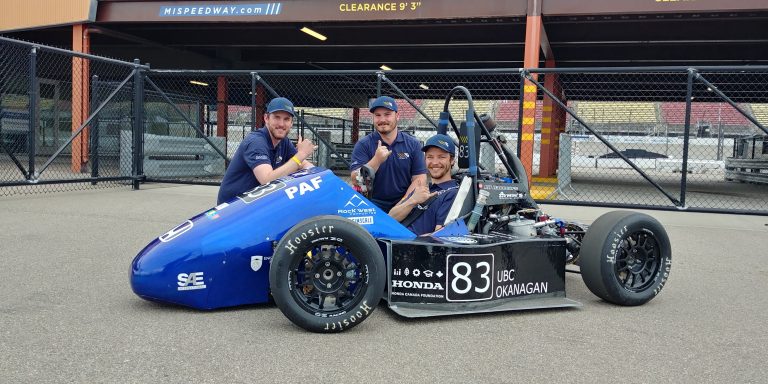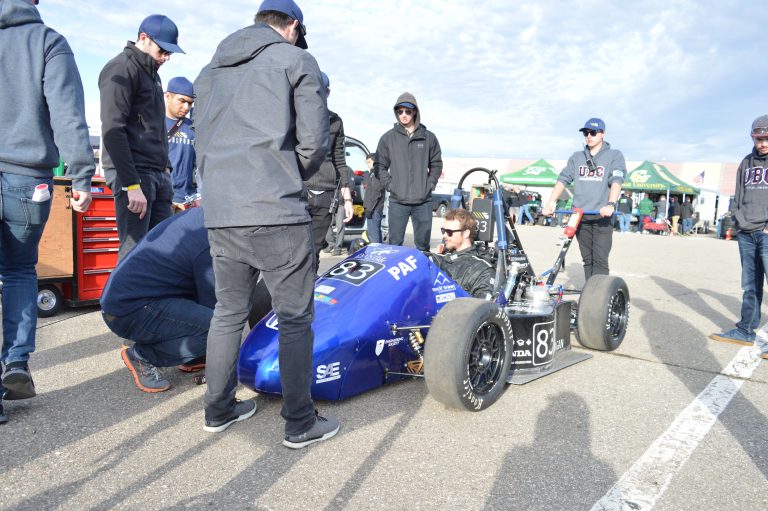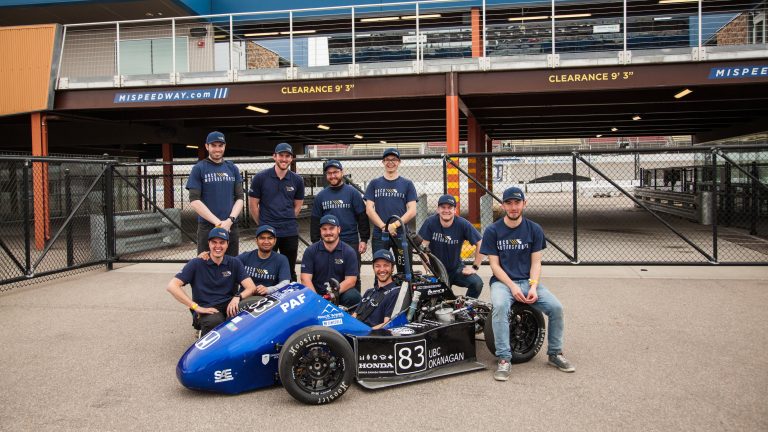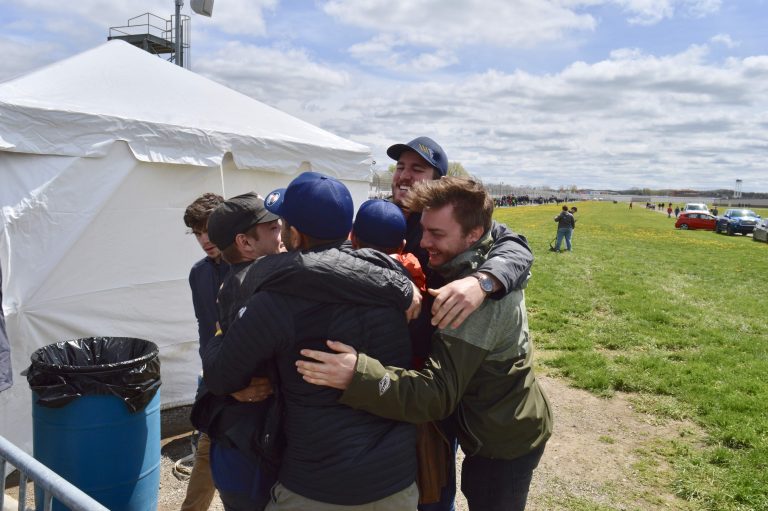 Over four-days of competition, the team competes in static events such technical inspections, marketing presentations, and equipment testing.  The competition culminates with two-days of dynamic events that puts the vehicles through their paces on the racetrack.
Last year in Lincoln, the team experienced engine failure during one of the first judged events (noise inspection).  It took an extra twelve-hours of tweaking, but the 2019 edition of the racecar passed the test requiring no more than 103 dB while idling and 110 dB at high engine speeds.
"We needed to change some minor exhaust routing and adjusting our idle speed, but we were able to pass with flying colours," explains team captain Stewart MacDonald.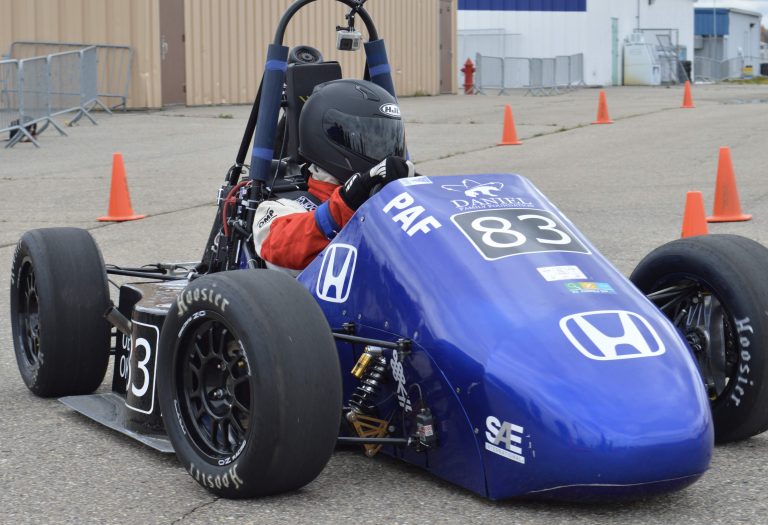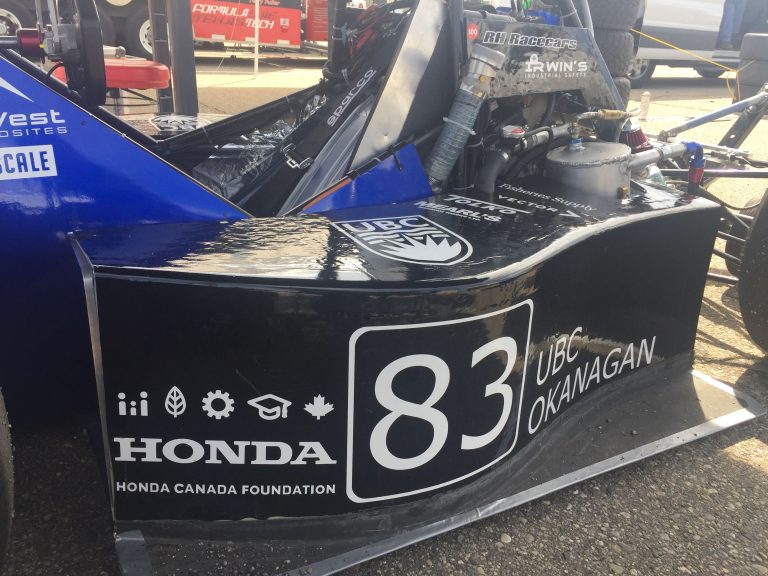 Before the car entered the track, members of the team also participated in the marketing components of the competition where they provided judges with detailed overviews of the car's specifications and performance.
With 119 teams registered for the event, the UBCO Motorsports team began the dynamic portion of the competition finishing 66th in the acceleration event.  The event is a 75- metres drag race; where the UBCO Motorsports team finished in a time of 5.2-seconds.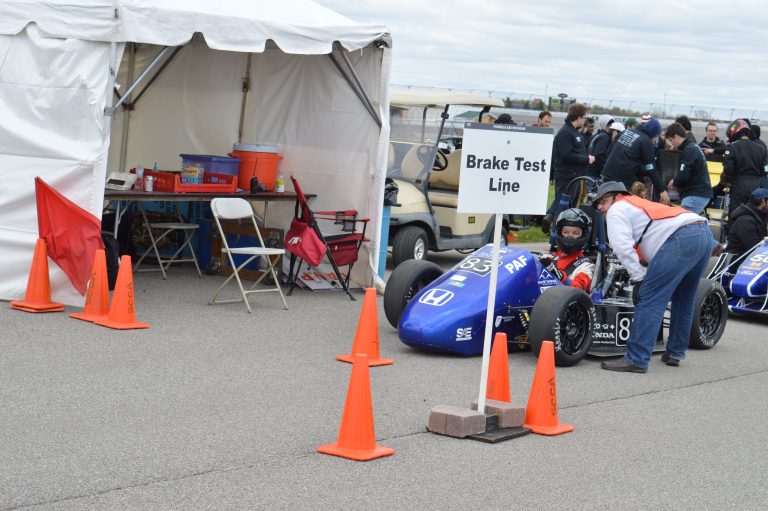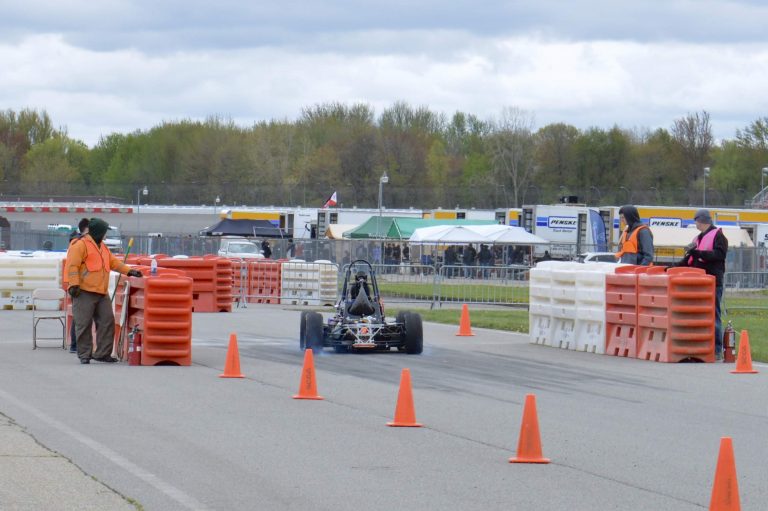 The team fell back a bit in the auto cross category, finishing the 2-lap course in 69.3-seconds for 84th position.  Their skid pad finish, highlighting how the car handled in the corners, came 68th in a time of 5.795-seconds.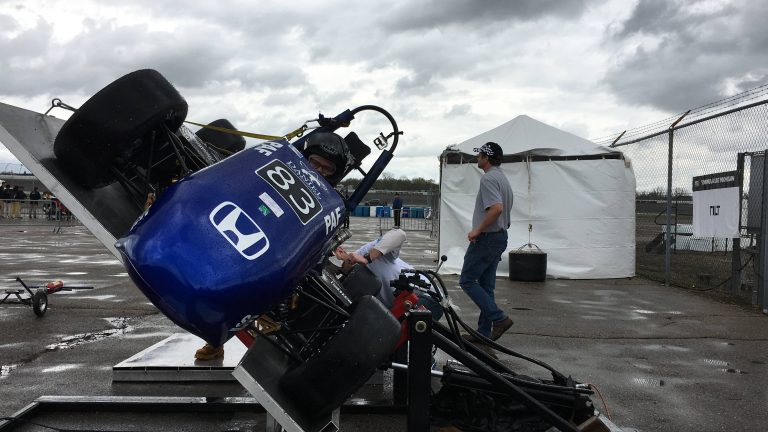 According to Nathan Van Zyderveld, the team's Powertrain lead, getting past the noise inspection was a crucial step.  "There are so many exceptional teams at these competitions, so maintaining and building upon our momentum is essential to future success."
In the final category of the competition, the endurance race, all cars needed to complete 11-laps (22-kilometres course).  Historically, less than half of the teams that qualify for the event are able to complete it.
The UBCO car managed to complete 7-laps before experiencing an electrical short that blew the 100 Amp main fuse.
"Although our overall result wasn't what we'd hoped, we'll all look back fondly at these experiences," says MacDonald.  "We are excited to apply the learnings from this competition to next year's' build and improve our standing at the next competition."
To learn more about UBCO Motorsports visit http://www.ubcomotorsports.ca/