Kishoare Tamanna, MASc '18 (Civil)
Why did you choose to study at UBC Okanagan?
I wanted to pursue my higher studies at a leading university with excellent research facilities in the field of structural engineering. UBC offers an exceptionally enriched academic and research environment encompassing all forms of diversities which attracted me to opt for studying here. Thus, I gladly accepted the offer to pursue a Masters' degree at UBCO along with research assistantship.
What has the experience been like thus far?
It has been an amazing experience being a graduate student in Engineering at UBCO. Having been exposed to a whole new environment has been a really unique experience for me. I have thoroughly enjoyed all the challenges I have faced both in academics and research. For instance, very often I have to come up with an optimized solution for my experimental works constrained with limited resources. This has helped me grow and develop to my full potential, although, it was difficult for the moment. Furthermore, being actively involved in the Engineering Graduate Students' Society (EGSS) and other student organizations helped me to learn a lot and stay engaged productively beyond research.
Describe your research
My research primarily focuses on the effective utilization of recycled waste materials in concrete to reduce environmental loads and thereby, promote sustainable green concrete production. I have integrated recycled crumb rubber (CR) and recycled concrete aggregates (RCA) as partial replacements of fine aggregates (FA) and natural coarse aggregates (NCA), respectively, in my concrete mix; to study their effects on the mechanical properties of the produced concrete. Moreover, I have incorporated synthetic fibers in addition to CR and RCA in several mixes to enhance the flexural strength of the green concrete. I have conducted numerous experimental tests to determine their behavior under different types of static loads such as compression, flexure, and tension. Also, I am currently looking into the behavior of this new material under dynamic impact loading. I will be testing my specimens under impact loading in collaboration with UBC Vancouver shortly.
In addition, I have worked in multiple projects ever since I started my research career at UBCO which includes design and development of strong wall, seismic behavior of RCA bridge piers, use of reclaimed cementitious powder as replacement of cement and others.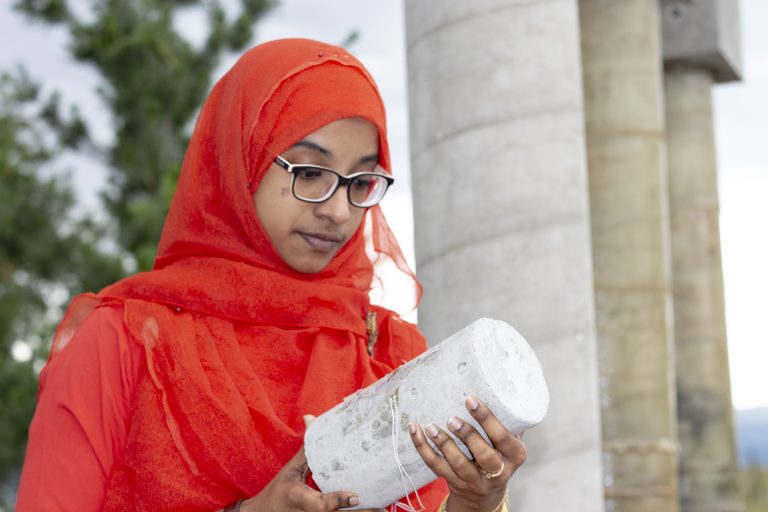 What do you enjoy about working with your supervisor and your research group? 
I have been working as a graduate research assistant (GRA) with Dr. Shahria Alam since September 2016. He is an amazing person who always motivates to excel not only in research but also in other extra-curricular activities. His continuous support and encouragement to undertake challenges and to avail all the possible opportunities keep me moving forward. Moreover, he zealously involves his students in seminars, workshops, and other activities, which I truly admire.
We have a relatively large group with diverse research focuses. I am fortunate to have the opportunity to work in such a versatile and avid research group. Whenever I get stuck in research or need help in the lab, they always come forward cordially. Importantly, I learn a lot by working with them.
Can you talk about the importance of the EGSS to your experience at UBC Okanagan? 
I have served as the Research Assistant/Teaching Assistant (RA/TA) coordinator in EGSS for one academic year term. It has been truly instrumental in enhancing my experience as a graduate student at UBCO. I represented the Masters' students at the graduate student advisory council (GSAC) as part of EGSS for the term as well. I have been involved in organizing various events and graduate development workshops which bolstered my confidence to a great deal. One of the many things which I enjoyed through my experience at EGSS, is to interact and build communication with students from diversified backgrounds.
What do you like to do when you are not in the lab?
Kelowna is a very beautiful place with plenty of outdoor activities to enjoy out of academic life, especially, during summer. I try to explore as much as I can whenever I am free. As much as I enjoy playing badminton, I love to explore and try different foods. One of the things I enjoy most is spending time with my friends who turned out to be my second family here in Canada.
Are you involved in any extra-curricular activities?  If so, what are they and why is important to you to be involved?
I have worked as an executive member in three student clubs in UBCO for the academic year of 2017-18. To elaborate, I worked as the RA/TA Coordinator in EGGS, as the Secretary in Muslims Students' Association (MSA), and the Vice-President (VP) of Internal Affairs in the Bangladeshi Students Association (ABS). I am resuming my position as a secretary in MSA currently. Also, I am working as a volunteer in Kelowna General Hospital (KGH) Foundation.
I feel it is extremely important for one to actively participate in any extra-curricular activities that they feel passionate about. I believe I can effectively contribute to the society through these volunteering activities even though it might not have a significant impact instantaneously. I strive to do as much as I can do to leave a positive impact on others' life and the society as a whole. Importantly, the feeling of gratification and fulfillment that I achieve through these works surpass it all. Also, it helps me to stay productive and focussed beyond academic life.
Can you describe your transition to living in Canada? 
I come from Bangladesh. I completed my Bachelors' from Bangladesh University of Engineering and Technology (BUET) and joined UBC Okanagan for graduate studies. The transition entirely to a new environment, initially, was quite challenging. But, gradually afterward I started enjoying the experience of being amongst a truly diversified surrounding.
The administrative staff in SoE has been really helpful. I would like to mention Shannon, especially as a great support system at SoE from my personal experience. Moreover, being involved as an executive member in EGSS helped me to gain more exposure to the overall system here.
Looking ahead 5 or 10 years, where do you see yourself?
I, personally, do not plan years ahead. I keep short-term goals and focus on achieving them in the best possible way which leads me to the long-term goals. But, I would definitely like to see myself as a research personnel parallel to working in an industry.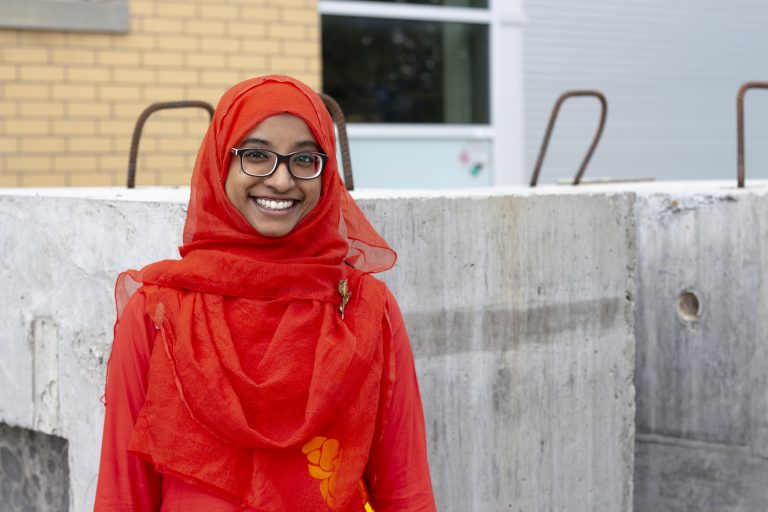 Best advice you have received so far at UBC?
The best advice I have received so far at UBC is not to feel alienated just because you come from a different part of the world and you are here for the fact that you belong here.
Advice you'd give to a student considering UBC Okanagan for their graduate studies?
For a student considering UBC Okanagan for their graduate studies, I would like to advise them to have a goal in their mind in terms of what they want to achieve and how they want to reach that goal. It is a great place to learn and explore, but you need to be prepared to take challenges and face them gracefully. It is a comparatively small place which has both its pros and cons. One important thing to keep in mind is to stay focussed and keep working hard to flourish yourself and help others to grow with you.
June 2019 Victoria, BC
Two UBC Okanagan School of Engineering graduate students highlight QES celebration in Victoria.
Kishoare Tamanna and Somi Doja attended an event last week hosted by the Honourable Janet Austin, Lieutenant Governor of British Columbia to celebrate incoming (international graduate students from commonwealth countries) and outgoing (domestic grad and undergrad students conducting research in a commonwealth country) QES Scholars and their contributions to the province.
The QES program helps to grow young Canadians into global citizens while promoting Canada as a destination for the world's top talent.