A UBC Okanagan / University of Mississippi Medical Center team outpaces stiff competition in virtual hackathon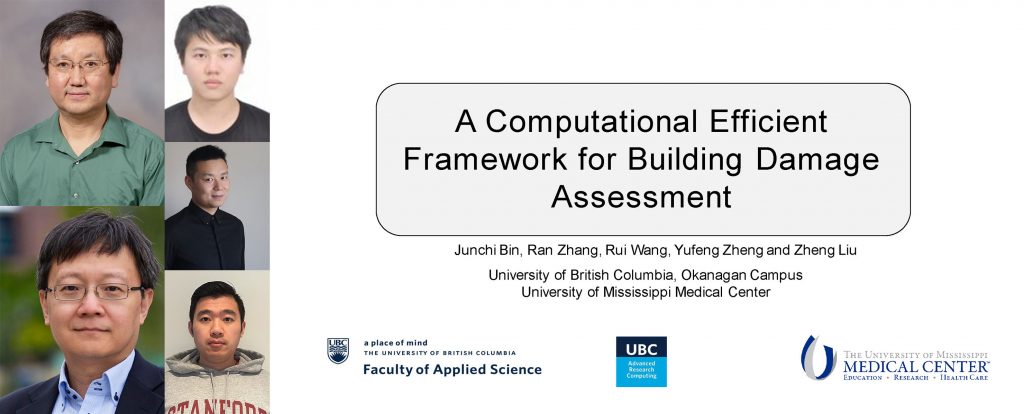 A group of undergraduate and graduate students from UBC Okanagan's School of Engineering won the Overhead Imagery Hackathon (OIH). The international competition, hosted by the United States Air Force, University of Wisconsin Madison, and the Toyota Technological Institute at Chicago, pitted teams from across the globe in a hackathon geared towards utilizing Artificial Intelligence and Machine Learning (AI/ML) methods to classify different types of building damage caused by natural disasters, such as hurricane, flood, earthquake and fire.
The UBCO team included graduate students Junchi Bin (a 3rd year PhD student), Ran Zhang, and Ray Wang under the supervision of Engineering Professor Zheng Liu.
"Our students performed admirably in a challenging competition that featured top programs from North America," explains Liu. Liu's students are accustomed to undertaking similar challenges as part of their research at the Intelligent Sensing, Diagnostics and Prognostics Research Lab. "Developing new sensing and measurement technologies is at the heart of our research so our team in this competition was well-equipped to leverage AI and ML to assessment structural damage resulting from natural disasters."
The team was able to rapidly mobilize during the competition, which according to Team Leader Junchi Bin was key to their success. "In a hackathon, there are a lot of tasks to accomplish in a limited amount of time, and I was impressed by our team's willingness to dive deep into the challenge to find a solution."
The team collaborated with Dr. Yufeng Zheng, a renowned researcher on multi-sensor image fusion, from the University of Mississippi Medical Center to develop their remote sensing application.
The competition involved teams analyzing aerial images of disaster areas, and identifying impacts.
According to Liu, the team's success is prompting them to further investigate this area of research. "We are identifying numerous applications for this including in the Okanagan when it comes to mapping the impact of forest fires and flooding."