Scientists predict that there is a 30% chance that British Columbia will experience a major earthquake in the next 50 years. That major seismic event has the potential to register higher than magnitude 9.0. Only five earthquakes have been recorded over 9.0 according to the US Geological Society, and all but one were located in densely populated areas. The 2011 Great Tohoku Earthquake in Japan resulted in more than 15-thousand fatalities and over $309B in economic loss including damage to hundreds-of-thousands of buildings, thousands of roads, and over fifty bridges.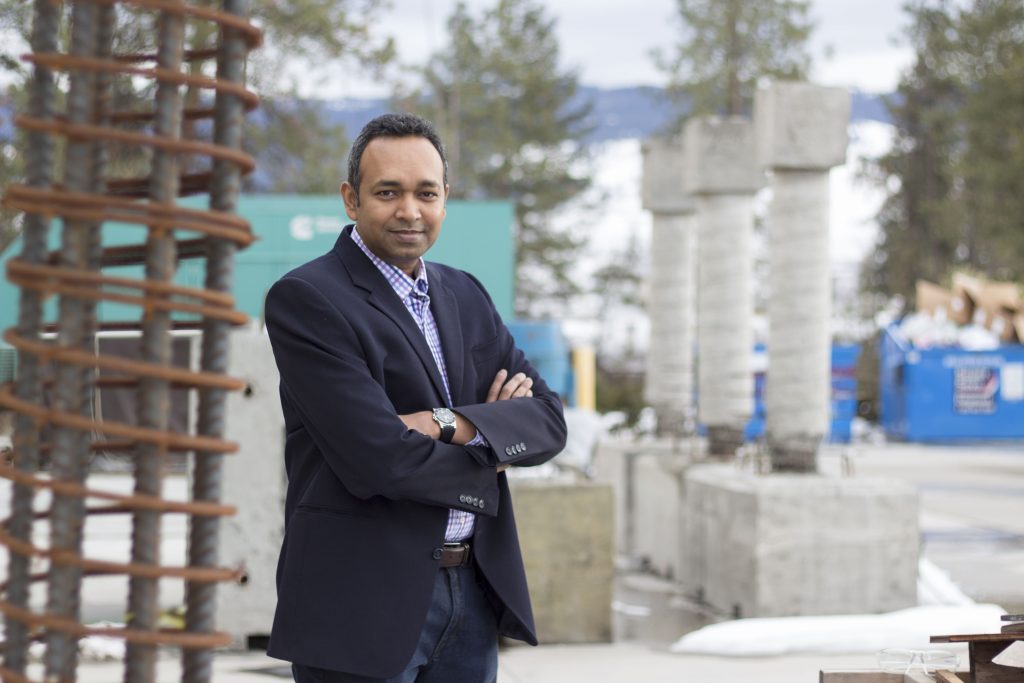 In an effort to address the possibility of a catastrophic seismic event in BC, and its ensuing infrastructure impact, researcher Shahria Alam and his team from the School of Engineering's Applied Laboratory for Advanced Materials and Structures (ALAMS) have teamed up with Spannovation Consulting Limited from BC's Lower Mainland. Alam, who is a Professor and Principal's Research Chair in Resilient and Green Infrastructure, will spend the next six years evaluating and predicting the performance of a variety of existing and future bridges. He and his team will also design new technology to retrofit these bridges, and strengthen new bridges.
"Our research focus is to investigate single-span bridges, which make up a third of the bridges in BC, but are also the most susceptible to damage from earthquakes," explains Alam. "Better understanding factors such as abutments, foundation, and soil-foundation interaction are pivotal to designing technology to safeguard existing and new bridges in our province."
According to the Insurance Bureau of Canada overall loss after a 9.0-magnitude earthquake in BC is estimated to be almost $75B while a 7.1-magnitude earthquake in the Quebec City-Montreal-Ottawa corridor would cause a $61B loss. Alam says it is clear that Canada's bridge infrastructure is vulnerable. "It is imperative to seek new approaches for seismic analysis and design of bridges, and that's why we are collaborating with Spannovation."
Spannovation is a bridge and seismic engineering consultancy that specializes in developing retrofit and rehabilitation strategies through seismic analysis including response spectrum, push-over and time history analyses.
The multi-phase project will commence later this summer with analysis and modelling of different bridge structures across the province in conjunction with the British Columbia Ministry of Transportation and Infrastructure. The findings will then be used to create a robust predictive modelling program that can help evaluate existing bridges and future bridge designs.
The researchers will also investigate how multi-span bridges respond to non-uniform ground movement. Alam sees this phase as one of the really fascinating components of the research. "Since seismic wave behaviour isn't always consistent, we will analyze how the individual parts of the bridge respond structurally through displacement and strain responses in order to develop design guidelines and recommendations."
The project will investigate these scenarios and find solutions using advanced analysis tools such as Elastic Dynamic Analysis (EDA), Inelastic Static Pushover Analysis (ISPA), nonlinear time history analysis, and incremental dynamic analysis (IDA). The findings will help advance the Canadian Highway Bridge Design Code.
The research is funded by the Mitacs Accelerate Grant cluster, and is expected to train more than 30 interns in the next six years.