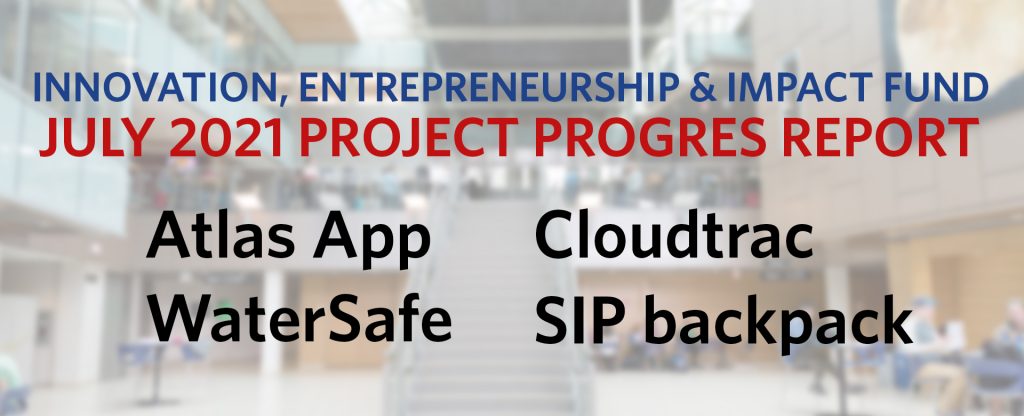 The four teams that received funding from the inaugural Innovation, Entrepreneurship & Impact (IEI) Fund have been steadily making progress through the spring and summer.
Each team received funding to develop a project with potential to make a significant real-world impact. The projects range from tools to improve water quality in Indigenous communities to increasing access to student wellness resources, and combating auto theft.
The Eledigm team is working with faculty mentor Dr. Ray Taheri to further develop a concept they first presented in APSC 169 Fundamentals of Sustainable Engineering Design. Their WaterSafe product is an attachment that connects to a cistern, and prevents contaminants from entering the water supply.
Over the past few months, they have been undertaking extensive consultation with rural communities to identify additional needs of their potential markets, created and tested a new prototype, and expanded their social media presence including building a website.
"We are currently making great progress and we have already established a website, game plan for contacting customers/gathering data, and have a CAD model of our product," says team member Sydney Strocen. "Our next steps will be moving towards a functional prototype as well as building a distribution network for our product."
Working together to build a comprehensive resource platform and building relationships with customers has been the focus of the past few months for the Atlas App team. Already the team has developed a functional website, and wellness check-in with beta testing amongst UBC Okanagan students.
According to team member Erika Pineo, the biggest challenge has been time management and communication.  "With everyone on our team working full time, it took us some time to establish effective communication methods." The team also welcomed some additional team members with experience in coding and software development. They have been helped by their faculty mentor Dr. Alon Eisenstein who has provided resources and insights into using lean prototyping techniques and beta-testing.
"The idea for Atlas has been floating around with our team members since early 2019, and this funding has given us the support and structure needed to bring it to life," says Pineo. "We know the benefits and impact this app can have are endless, and we are excited to continue developing the company."
Supplier delays have slowed progress a bit for Team Cloudtrac. The theft prevention GPS tracker continues to update their software, and credit the IEI funding for maintaining the project's momentum. "We've been working on this project for the past four years between classes and jobs but now, with this funding and support from our faculty mentor Dr. Kenneth Chau, we are able to focus on building the important business side of things," says Connor Scott, one of the members of Cloudtrac.
The funding has enabled the team to purchased software licenses, servers, and look after other business expenses while establishing five strategic local business partners that are helping build a customer base in the Okanagan.
The 2021 IEI Fund recipients included a fourth team that received $5,000 to develop a mobile filtration backpack (initially designed in APSC 169). The SIP backpack team has advanced to the Finals of the National Aquahacking Challenge, and received additional funding and training through bursaries, a company accelerator called Foresight, and a leadership bootcamp from Waterluition.
"Market research has shifted our focus to humanitarian need, disaster relief, and emergency response," explains team member Yosamin Esanullah, "as a result, the design has changed dramatically, and continue to evolve as we begin to prototype and experiment." The team points to the support provided by their mentor Dr. Taheri, and others, who have helped shape this transition.
Over the past few months, the SIP team has been conducting market research, developing an online presence, and prototyping. Esanullah says the focus continues to be getting a clearer vision of what the market wants. "We are continuing to form connections with NGOs, humanitarian organizations, outdoor retailers that are interested in our product to encourage investment into its development."
"These teams have really demonstrated a drive to take their projects to the next level, and we are thrilled to see them all advancing over the summer," says Chau, who oversaw the adjudication process. "Their success to date is really an indication that this type of funding can truly make a difference in propelling a good idea into an impactful reality."
Further to that point, the IEI Funding is helping to foster an ecosystem where students can immerse themselves in work-integrate learning. The teams continue to work on their projects, and will present a detailed progress report during a public presentation in the Fall.
For more information about the Innovation, Entrepreneurship, and Impact Fund visit https://engineering.ok.ubc.ca/student-resources/innovation-and-impact-dean-fund/.