On December 6th the School of Engineering is hosting a memorial and vigil for 14 Not Forgotten from 12:00 – 1:00 pm in the EME Zero Level Foyer.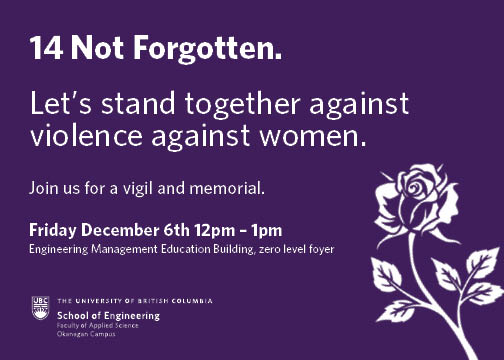 All are welcome.
The School will also be unveiling a 14 Not Forgotten plaque that will be permanently situated in the EME main foyer.
On December 6, 1989, an armed man walked into an engineering class at l'École Polytechnique de Montréal. After forcing the men to leave, he stated that he hated feminists and began to shoot the women in the class. By the end of the shooting, he had killed 14 women and injured ten more. In response to this tragedy, Canada established December 6 as the National Day of Remembrance and Action on Violence against Women. This day serves as a reminder of the gender-based violence against women in Canada and around the world that persists today.