Kelowna, BC – Faculty from the Okanagan campus accounted for two of the three (faculty category) UBC Faculty of Applied Science Dean's Awards for Excellence in Service.  Nominated by APSC faculty, staff and students, the winners were selected for their role in improving "workplace productivity, quality of service or morale and maintaining a consistently high quality of work that is beyond what is normally required for their position.
Yang Cao (Senior Instructor)
Yang's leadership as Associate Director of Undergraduate Studies in the School of Engineering has been crucial to maintaining the School's accreditation, as well as expanding its range of courses and programs. In his service to the School, he exemplifies the ideals of educational leadership, including synthesis of research, teaching, service and administration.
Dwayne Tannant (Professor)
Since his arrival at the School of Engineering in 2008, Dwayne has shown selfless dedication to making the School's students, colleagues and university better. Over the years he has held numerous formal service roles, including Acting Associate Dean, Acting Director of Undergraduate Studies, UBC Okanagan Senator, serving on committees at every available level and positively representing the School in both the academic and public communities.
Faculty promotions were announced at the end of the academic session.
Congratulations to Cigdem Eskicioglu, who was promoted to Full Professor effective July 1, 2018.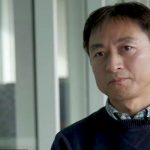 Congratulations to Sunny Li, who was promoted to Associate Professor effective July 1, 2017.
At the School of Engineering's annual internal awards presentation, the following faculty and staff were recognized for their outstanding contributions:
Researchers of the Year:
Teaching Award:
Service Award:
Educational Leadership Award:
Emerging Professor Award:
New Professor Award:
Staff/Technician – Certificate of Appreciation
Tanya Chartrand
Shannon Hohl
Praveen Rajan
David Zinz