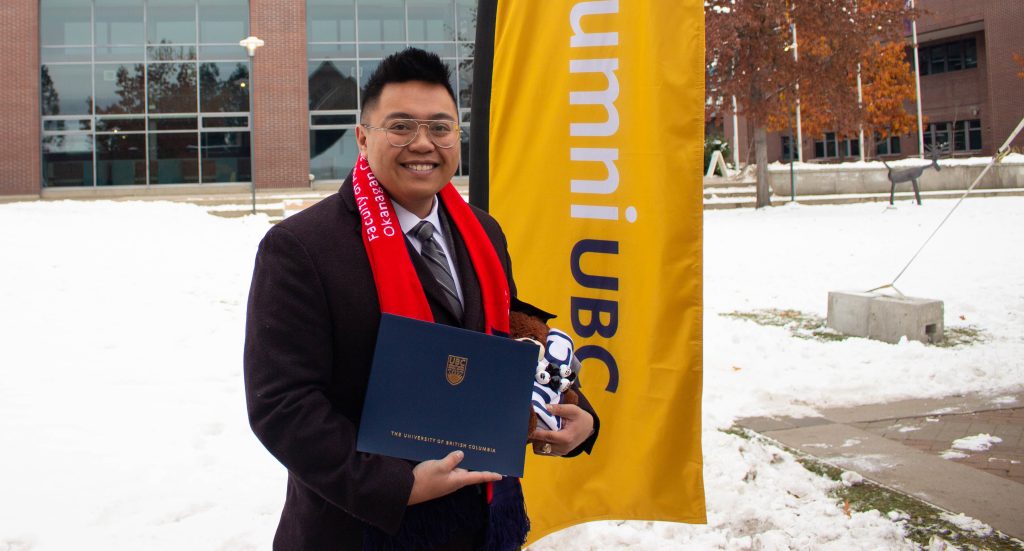 How does it feel to be returning to UBC Okanagan for your graduation ceremony?
To be completely honest, bittersweet. I can vividly remember the last day that I was on campus for regularly scheduled classes, and thinking that the pandemic wouldn't be a big deal. While I'm appreciative of the virtual graduation I received last year, it's still only natural to feel a sense of loss of experience; convocation was an incredibly important piece of the puzzle to me and my family. Two and a half years later, it doesn't feel real that our in-person graduation is finally happening. I'm excited to close this chapter of my life formally – and in person!
What is the first thing you are going to do when you are back on campus?
I'm excited to see all the new developments on campus. Skeena and Nechako are two buildings developed past my stay, and it will be nice to see where the campus is now. I also plan on visiting folks that I worked with while in school, and the student teams I had the opportunity to be a part of. Most importantly, I plan to re-connect with friends and faculty.
What are some of your fondest memories from being at UBC Okanagan?
Create Orientation was easily one of my favourite times of the school year. I remember my first Create, being incredibly nervous to be a part of the faculty, let alone being away from home; and I remember being approached by senior engineering students at the time, being handed a bandana and given facepaint, and feeling encouraged to be proud of my faculty community. From then forward, I felt a sense of inclusion; and that's what propelled me to do what I did in my undergrad. Even in future years, I did my best to share the same sense of joy I felt every year as an orientation leader and a faculty lead.
UBC Geering Up will also always have a special place in my heart. Being able to work with kids across BC to promote STEM was truly a unique experience, and I'll never forget the times when I was able to see something click in a kid's mind, and how they started to interact with the worlds of science and engineering. Looking back, if it hadn't been for the pandemic, I wouldn't have been able to start new initiatives which would have grown, and I wouldn't have been able to meet a lot of the friends that I hold near and dear to me.
Beyond orientation and outreach, I also fondly remember having the opportunity to travel, representing the University across Canada and the United States in my work in student leadership. I had the unique opportunity to advocate for what mattered most to UBCO students regionally and nationally, and it's because of initiatives like the Professional Activities Fund and groups like the Engineering Society that those opportunities became possible. Even to this day, every so often I'm reminded of the impact I was able to create when current students contact me for advice, or I see initiatives take flight which started during my time. It always brings a smile to my face.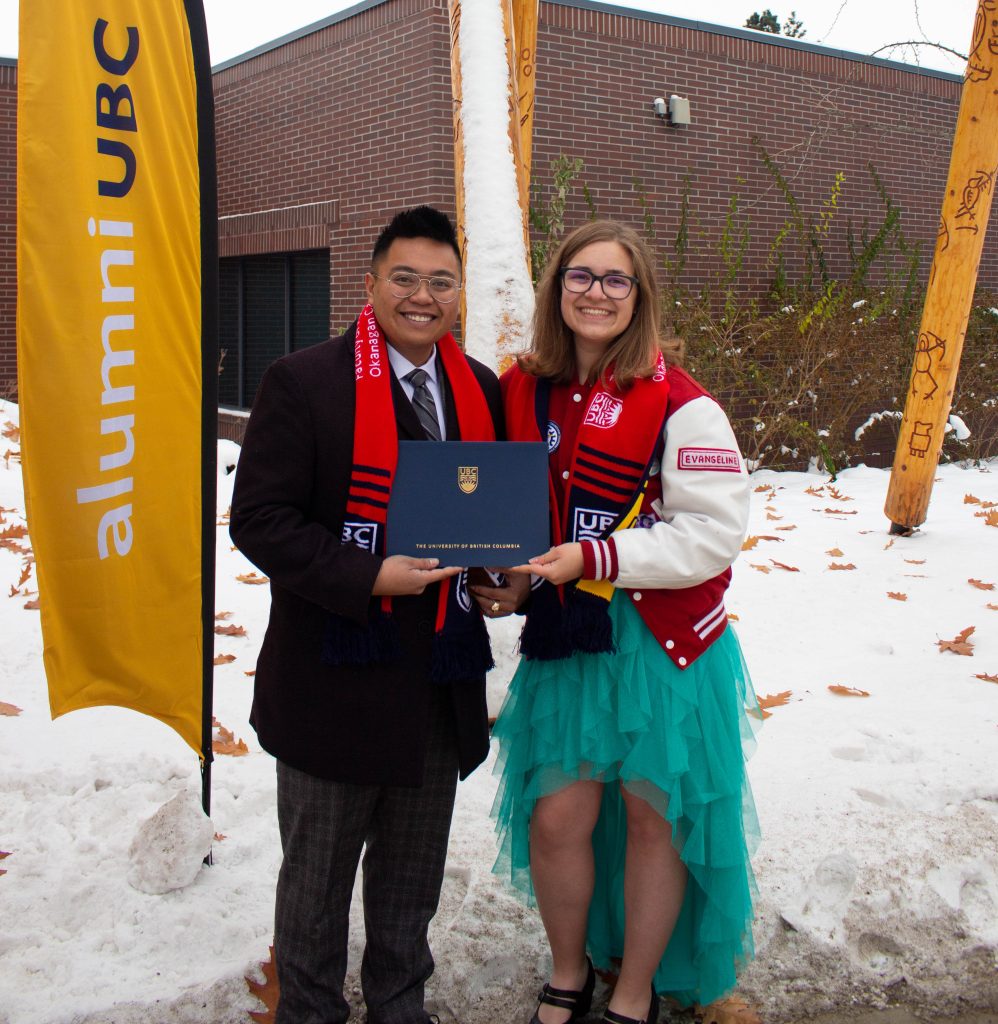 How have your studies at UBC Okanagan prepared you for your journey after your Engineering degree completion?
My studies at UBC Okanagan prepared me both quantitatively and qualitatively. My role in the workforce relies on scholastic aptitude in engineering to contextualize the requirements and demands of what craft workers need to successfully execute a job. More than technical proficiency, my success in the role is propelled by qualitative skills in technical communication, craft engagement, and networking to achieve project success. I use many of the skills I learned on a regular basis, and UBCO's design-based curricula allowed me to interface with engineering design software, drafting techniques, and real-world theory that I use on an ongoing basis – to the extent that I was able to easily transfer my skills to new platforms in the field. Many of the techniques that were discussed in Construction Management are used daily, and my ability to understand engineering theory allows me to assist our formal engineering teams by proposing solutions which are reasonable to the true field work being performed.
Describe what you have been up to since your degree completion?
Upon graduation, I started working as a Field Engineer-in-Training at the Whitla Wind Facility Phase 2/3 Project near Medicine Hat, AB – a project which is owned and operated by Capital Power Corporation. I spent six months helping to bring an additional 151 MW of renewable energy to Alberta's grid. After finishing my role in the project, I transitioned into a role as an Energy Management Engineer-in-Training, where I translated these skills in the field into real-time 24/7 operations of all of Capital Power's Coal, Thermal, and Renewable Assets across North America. I learned how to interpret the rules and regulations of different Independent System Operators and adapted to challenging circumstances requiring real-time operational support. Both experiences built different tools which I have been able to bring into my current role.
I now work as an Industrial Project Coordinator for PCL Construction – Heavy Industrial division. In this role, I directly oversee, facilitate, and assist in management of operations for large-scale industrial projects. On behalf of our field management teams, I submit inquiries to engineers and manage progress performance and reporting, perform quantity takeoffs to allocate budgets per specified project scope, and interpret engineering specifications to ensure the technical requirements of our operations are followed. In addition, I establish relationships with vendors and subcontractors to efficiently and effectively execute different exercises to reach project completion. Currently, I am stationed as the Structural Project Coordinator for the Cascade Power Project near Edson, AB – a 900 MW Combined Cycle Facility, owned by Kineticor, which is being constructed by a joint venture partnership between PCL Industrial Management Inc. and Overland Contracting Canada Inc. (Black & Veatch).
I haven't let my passions for inclusivity and leadership fall by the wayside, though; as a part of my role with PCL, I've taken the opportunity to be a part of the Diversity, Equity, and Inclusion committee for all of PCL Canadian – Industrial Operations. I hope that as I grow in the professional workforce, I can use the critical discussions I had in my time at UBC Okanagan to create a direct and genuine impact on the engineering and construction industry; and help build it to become a more inclusive workforce for everyone.
What does the future hold for you?
My short time in the workforce has shown me how much I've learned in just a few years time after graduating – but it's also shown me how much more I want to explore to become a seasoned professional. My hope is to work towards becoming a Project Engineer, or Project Manager – and eventually, to enter the world of business development. I've learned that my aptitude in engineering best serves me when I can contribute to innovative new ideas, and it would be incredible to use the skills I have to bring more work fronts and sustainable scopes to our team. To help build that expertise, I've begun part-time studies in a Master of Business Administration at Thompson Rivers University, alongside my professional work. I'm hoping that the real-world experience I gain, coupled with education in engineering and business practice, will position me to be a strong advocate and leader in the future.
If you could share a message to your fellow graduating class, what would it be?
Being a part of the Class of 2020 and 2021 means that there is something very special that is ingrained in our experiences – and while I'm sure we've all heard the terms, "unprecedented circumstances," and "challenging times," written in an email or two, there is one characteristic that we all had to learn as a result – and that would be resilience. Over the past few years, we have had to adapt to, and witness, incredibly challenging situations; social isolation, worldwide quarantine, and international warfare, to say the least. There are many social issues that have and will continue to shape the world we live in. As UBC engineers, it's our duty to remember the influence that we hold on to the world, however big or small, and to use our skills to create meaningful actions.
We are the newest generation of engineers and leaders; our degree arms us with the knowledge and aptitude to execute our work correctly and efficiently – but ultimately, it is up to us to do good in the world, past the confines of the university. For many of us, we are already being the changemakers in the communities we are a part of – and making impacts around the globe. We can change our world in many ways, by creating new technologies, bringing energy to our communities, creating new places to live and work, and everything in between. Never forget who you are, the people who brought you to be who you are, and the stories you've been able to live. Our experiences will guide us, and while there is no way to prove in certainty where the future will take us, we can choose to be stewards of a hopeful community.