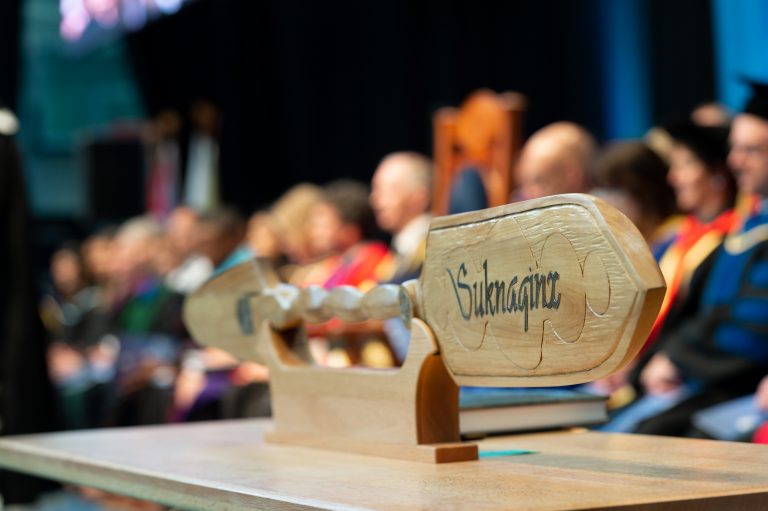 School of Engineering prepares to honour 2022 graduates in the first in-person convocation since the pandemic.
Over 400 undergraduate and graduate students will receive their degrees during the UBC Okanagan convocation ceremony on June 10th. The graduates include the first cohort of manufacturing engineering students, 143 undergraduate students graduating with a degree with distinction, 19 MEng graduands, 50 MASc graduands, and 32 PhDs.
CONVOcation 2022 photo gallery
"Convocation is a special time not only for our graduands, their families and friends, but for our faculty and staff who have shared in their academic journey," says Lukas Bichler, director pro tem at the School of Engineering. "The opportunity to celebrate this milestone with our students is something we've been anticipating since the announcement that convocation would be in-person."
Atop the graduating class includes two friends who will both be recognized for their academic accomplishments. Rachel May achieved the highest academic average over her final two years and will be awarded the UBC Medal in Engineering during the ceremony while David Charette receives the Canadian Society of Mechanical Engineering (CSME) Medal in recognition of an outstanding final year of study. In addition, the following students were recognized as the top students in their respective programs:
Rachel May – Engineers and Geoscientists BC Achievement Certificate in Engineering – Overall
Ken Masuda – Engineers and Geoscientists BC Achievement Certificate in (Civil) Engineering
Jared Paull – Engineers and Geoscientists BC Achievement Certificate in (Electrical) Engineering
Wesley Burchnall – Engineers and Geoscientists BC Achievement Certificate in (Manufacturing) Engineering
David Charette – Engineers and Geoscientists BC Achievement Certificate in (Mechanical) Engineering
This year's Dr. Gordon Springate Sr. Award in Engineering, an award given to a student who demonstrates material contribution to their community outside of the program, will be presented to Ahmed Sabry. Sabry has been an active leader on campus since he arrived at the School of Engineering. His campus leadership includes involvement with the International Programs & Services, Jumpstart orientation, and the Disability Resource Centre. He also participated in undergraduate research with Drs. Kenneth Chau and Mohammad Zarifi where he worked on iridescent nanostructures and automated sensors.
Samantha Krieg will be recognized with the Dr. Spiro Yannacopoulos Memorial Award in Engineering Leadership for her demonstrated excellence in both academics and leadership. The award is presented to an undergraduate or graduate student who has excelled in their studies and fostering a sense of community at the School of Engineering.
"All of these exceptional students have made tremendous contributions to the School and to UBC, and we are delighted to shine a light on their accomplishments," explains Bichler.
The 2022 UBC Okanagan Faculty of Applied Science Convocation takes place on Friday June 10, 2022 at 1:30pm. While tickets are no longer available, the ceremony will be streamed live at https://graduation.ok.ubc.ca/event/live-webcast/.
School of Engineering Convocation 2022 by the numbers:
| | |
| --- | --- |
| Program | Total Graduands |
| Civil Engineering | 104 |
| Electrical Engineering | 76 |
| Manufacturing Engineering | 6 |
| Mechanical Engineering | 125 |
| Computer Science Minor | 11 |
| Management Minor | 5 |
| Master of Engineering | 19 |
| Masters of Applied Science | 50 |
| PhD | 32 |