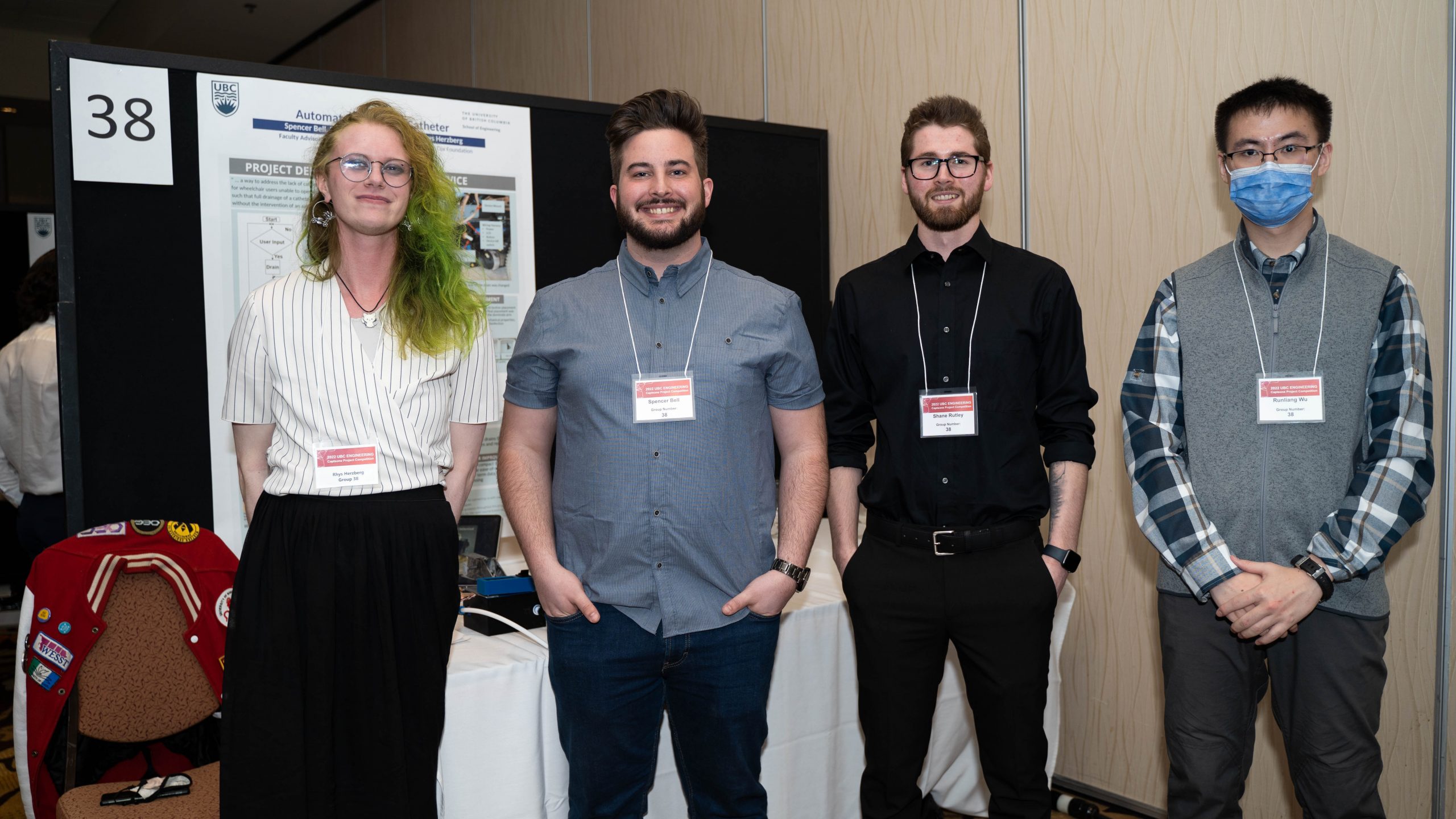 A proprietary-free catheter drainage device, designed by a group of fourth year engineering students at UBC Okanagan has won the Simon Cox Student Design Competition. The competition, in its seventh year, is intended to raise awareness of the day-to-day challenges facing people with neuromuscular disorders and spinal cord injuries, and how innovative designs can make a real difference.
The team of Spencer Bell, Rhys Herzberg, Shane Rutley, Runliang Wu in collaboration with their peer Misha Tvrdik (and faculty supervisor Assistant Professor Sabine Weyand) also won the Interdisciplinary and Overall Prize at the 2022 School of Engineering Capstone Showcase. The capstone judges were particularly impressed in the manner in which the students collaborated with stakeholders including a person living with MS to develop the device.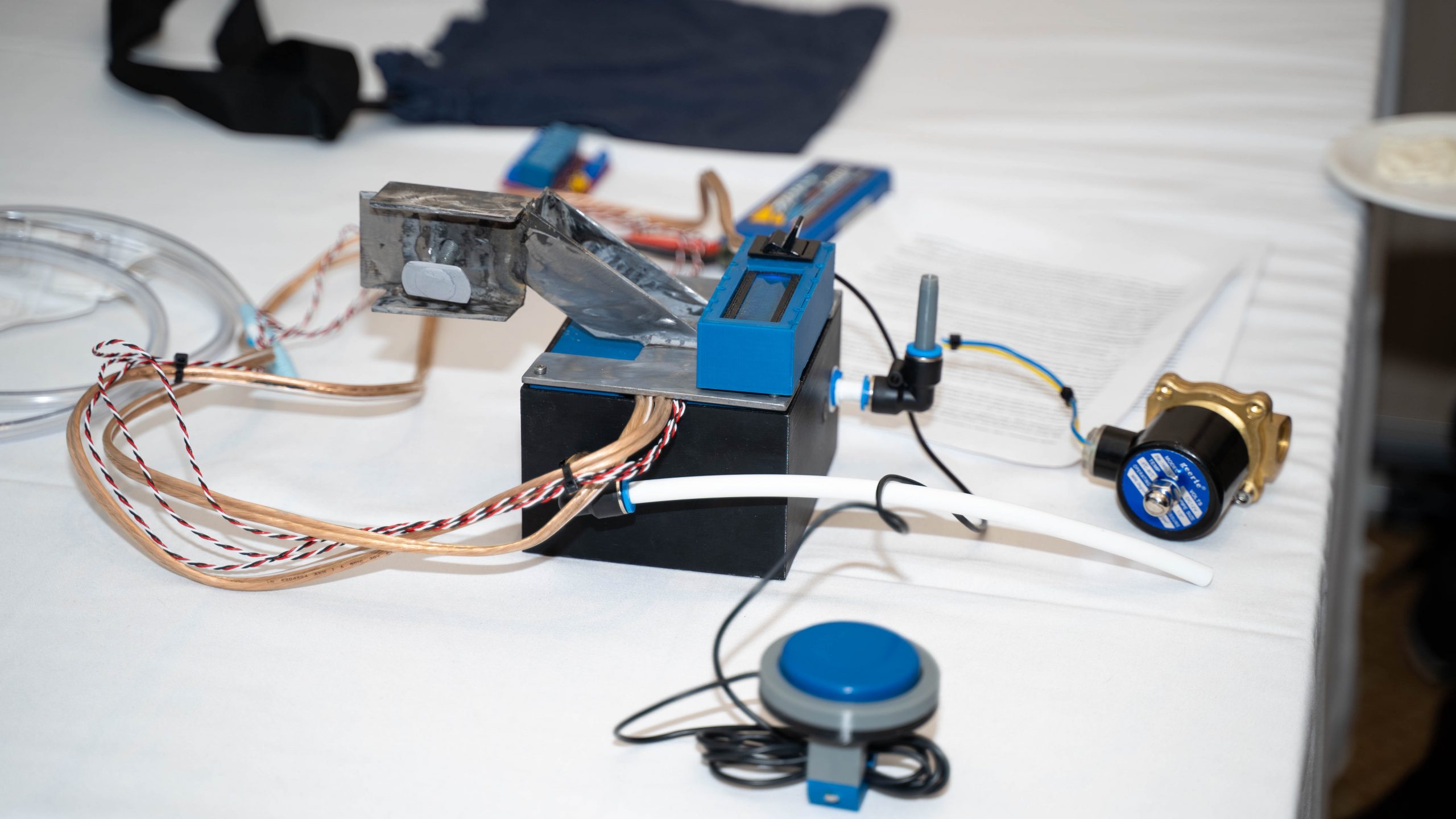 The drainage device mechanism enables a user to empty their urine catheter at the touch of a button. The device has a tactile button that's sensitivity can be adapted based on user preference. The tubbing and electronics were inexpensive, non-proprietary and adjustable to various wheelchair configurations.
The School of Engineering team wins $3,000 and the Simon Cox Principal Award. This is the first entry, and the first winning project done by an Engineering student team at UBC Okanagan.
Fifteen teams composed of 58 post-secondary students across British Columbia competed for four awards. All awards recognize designs that will enhance or improve the lives of persons living with disabilities.
An event to showcase 5 shortlisted projects was held virtually on May 7th, 2022. An archived version of the event can be found at https://youtu.be/EKJFkY0nLp0
Other winners included:
Simon Cox Award Prize $3,000: Automatic Drainage Catheter (UBC Okanagan)
Nancy Lear Achievement Award Second Prize $2,000: Parkinson's Laser and Sound Cueing Module (UBC)
Walt Lawrence Innovation Award $1,000: Rainscape (UBC)
This year's field of competitors saw the greatest representation of post-secondary institutions teams in the history of the Simon Cox Student Design Competition. Participants in the 2022 Simon Cox Design Challenge included BCIT, UBC Okanagan, SFU, UBC, and University of Victoria students, their instructors and people with a physical disability that had a problem to be solved.
The competition is generously sponsored by RBC Foundation, the Kinsmen Foundation of BC, KPMG, Lohn Foundation & AXIS Insurance Group.
Technology for Living is a non-profit leader in assistive technology, innovation, and respiratory care in BC. Technology for Living strives daily to improve the quality of life for BC residents, with breakthrough solutions to everyday problems. Technology for Living's is dedicated to helping people with physical disabilities in BC function more independently.
Learn more about the competition at https://simoncoxcompetition.com/