Lisa Tobber
Assistant Professor
Civil, School of Engineering
Other Titles: Principal's Research Chairs (PRC) Tier 2 - Women in Engineering & BC Housing Professorship in Resilient Reinforced Concrete Buildings
Email:
ltobber@mail.ubc.ca
Graduate student supervisor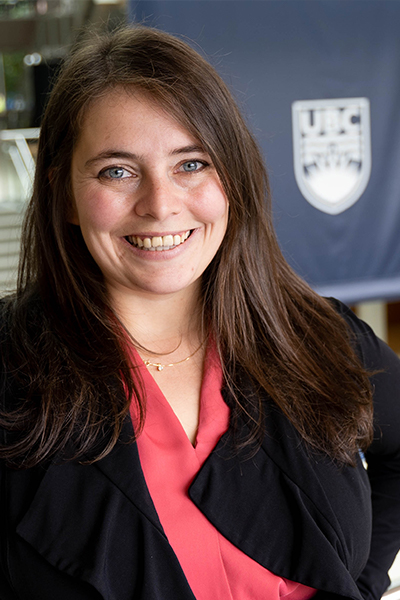 ---
Research Summary
Structural engineering; tall buildings; seismic design of precast concrete; disaster resilient buildings; reinforced concrete buildings
Courses & Teaching
ENGR 414 / APSC514 Precast Concrete Structures
APSC 261 Theory of structures
Biography
Dr. Lisa Tobber is an Assistant Professor of civil engineering at the University of British Columbia's School of Engineering. She develops innovative structural systems for mid-rise and high-rise buildings that facilitate a low-damage response following large natural disasters, such as earthquakes. Using advanced numerical simulations and large-scale experimental testing, she develops resilient, sustainable, and smart cities.
Dr. Tobber believes in being both innovative and practical. She has established many strong partnerships with industry, including engineering consultants, concrete and precast concrete producers, and contractors. These industry partnerships lead to impactful, real-world results which can be readily implemented in practice. As the lead researcher of the Advanced Structural Simulation and Experimental Testing (ASSET) Group, she and her team approach their research with a holistic perspective that considers the social, environmental, and economic factors behind the vast engineering problems faced today. Combating natural disasters and the climate crisis takes the ingenuity and creativity of an inclusive group of diverse individuals with a range of expertise and lived experiences.
As Principal's Research Chair in Women in Engineering and chair of the Women in the School of Engineering Committee, Dr Tobber is committed to championing the success of female engineering students, practitioners, and faculty.
Websites
Advanced Structural Simulation & Experimentation Group
Degrees
PhD – (Structural Engineering) University of British Columbia, Canada
BASc – (Civil Engineering) University of British Columbia, Canada
Research Interests & Projects
Design and development of resilient and sustainable buildings
Precast concrete Buildings
Tall buildings
Seismic design of reinforced concrete structures
Advanced numerical simulation
Earthquake engineering
Innovative systems
Energy dissipation devices
Apologies, but no results were found.